I finished my
Annis shawlette
in time for a wedding we went to last month, but it was a near thing. A "rushing the shortrows, blocking at 1:00 am the night before" kind of near thing.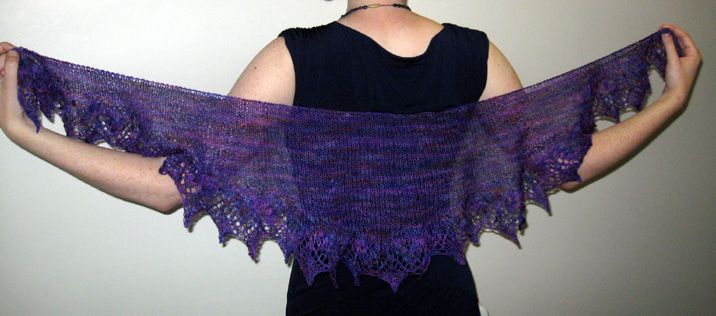 Pattern:
Annis by Susanna IC
Yarn:
Riverside Studio Superwash Merino Lace
(Note: my skein was about half the size as the linked yarn, and I did not use the full skein.)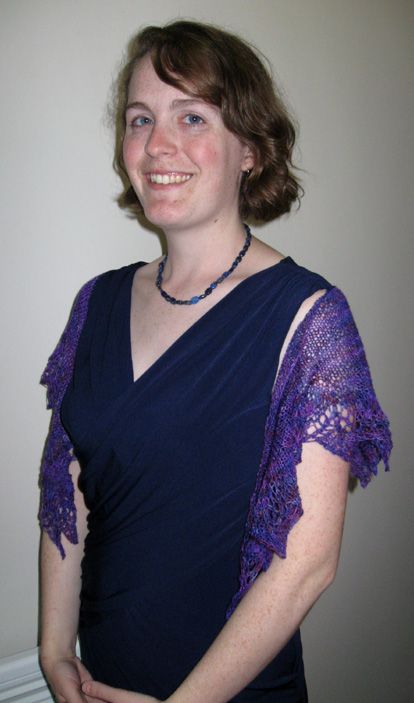 Notes:
This was my first crescent-shaped shawlette, and my first experience with nupps. I have admired Susanna IC's crescent patterns for a long time, and now I know I will make more of them. The shape is excellent for scarf-wise wearing - it definitely helps it stay around my neck/shoulders. I quite liked starting from the longest edge of the piece and finishing with fewer stitches, since so many things I've knit were done the other way around! Doing a backwards loop cast-on for 363 stitches as recommended nearly made me lose my mind; or rather, having to knit into the backwards loop cast-on for 363 stitches practically did me in. I might try finding a suitably stretchy but less annoying cast-on method next time.
But, let's talk about nupps. I've heard horror stories about them, but I like to think I'm a relatively fearless knitter*, so taking the advice of my more experienced peers, I jumped right in. The main advice I came across was KEEP THEM LOOSE. So I did. I might have overdone it on the looseness, though. As a result of such loose loops, purling 7 together wasn't too difficult, but to be honest the finished nupps are a bit underwhelming. Mine definitely do not pop out as much as others I have seen on ravelry, and in fact they kind of disappear into the fabric. Hmm. Part of the disappearing could be from the variegated yarn, but I have a feeling tighter nupps would show up better. If I were to knit this pattern again, I might use beads instead of nupps, as many others have done.
As alluded to at the beginning of this post, this project was a race to the finish. The only modification I made was to skip the last few short rows because I was running out of time. As a result, the top edge is has more stitches than is written, but I think it looks fine. I did fudge in some extra decreases before binding off. Nupps or not, I love how it turned out and have been wearing it a lot.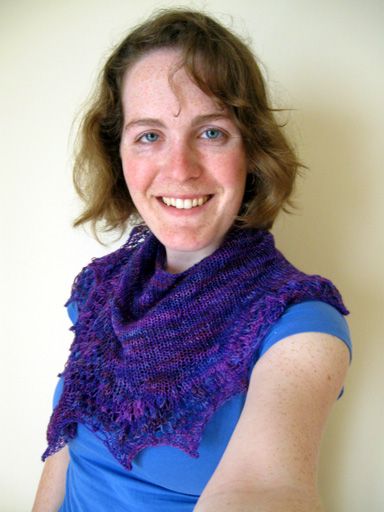 It's pretty and fancy, but it works pretty well as a casual scarf, which is how I wear it most!
*More fearless about knitting than other parts of my life, anyway!