After teasing you about my Woolfest swag, I feel I should preface this post with a simple fact: despite the abundance of amazing things present, I didn't buy very much at Woolfest. Part of me isn't even sure why, though it probably comes from two directions. First, I'm not a big spender at the best of times, and I'm still coming out of my unemployed-for-nearly-two-years cheapness hole where I felt guilty about each nonessential purchase (and sometimes guilty about the essential ones). Second, the event was so overwhelming that I didn't know where to look or what to look for.
Anyway. I went to Woolfest with one yarny item on my shopping list: red aran-weight wool yarn for a hat for my Grandma. I came home with the following:
See the red yarn? I thought not.
The yarn I did buy is from
Sparkleduck
- it is called Stratus, which is a BFL/Silk/Cashmere sockweight yarn. The colourway is Mallard, appropriately enough. It is semi-solid - there's more green than shows in the photo, and it is decidedly not dull-looking in the least. I will probably make a scarf or shawl from this, since there is no way I'm putting a yarn this fancy on my feet. Sparkleduck's entire stall was filled with amazing colour, and it took me ages to pick one to take home with me!
In the above photo, you can also see my fancy houndstooth Woolvember badge, that I purchased from
Kate Davies'
stall. (She wasn't there when I wandered by, so I was spared an awkward starstruck tongue-tied encounter, I guess. More on this theme later.)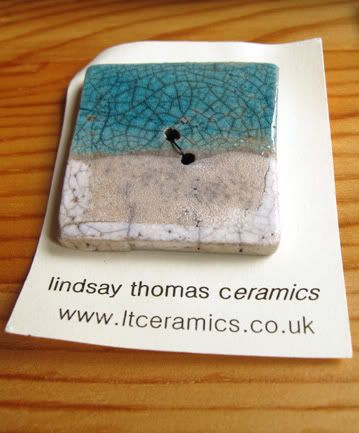 I also bought some fabulous buttons to add to my growing collection of buttons I have no idea what to do with. The ceramic one is large and chunky and would be a good accent on a hat, I think. The wooden square ones are made of reclaimed floor boards, and I just like gazing at them, so who knows what they'll be. I'll enjoy them in the meantime.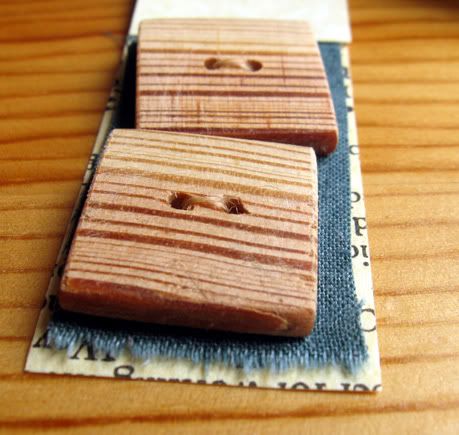 Speaking of starstruck encounters,
Lily and Amanda France
(whose blogging and designing I follow avidly) stopped by the Ruth and Belinda stall, and I blurted out "HELLO! I KNOW YOU FROM THE INTERNET!" or something equally eloquent, and proceeded to babble for a bit. Apparently I was the first to recognize and accost Lily at Woolfest that day, but I'm sure it happened many more times. Haha. Anyway, they were obviously lovely and not phased by my awkwardness.
I also met Heather from the
Nude Ewe
, and had my mind totally blown when we realised we'd gone to the same high school in Canada. Small yarn worlds! We weren't at high school at the same time, but in any case that has never happened to me before. Amazing. I'm ashamed to say that although I'd heard of the Nude Ewe prior to Woolfest, I hadn't a clue what they were all about. Now that I know, I'm fascinated - yarn spun from the fleeces of conservation grazing sheep. Genius.
In summary, yay for Woolfest! I met so many interesting people, saw so many beautiful yarns, and had great fun communing with the woolly beasts. Now I see why fibre events are such a big deal.