Pattern:
Fleegle's Toe-Up No-Flap No-Hassle socks
, sort of.
Yarn:
100g / 437 m 75% wool, 25% nylon, hand-dyed by me. I had about 25 g left over - can you say hexipuffs?
Notes:
I cast-on 24 stitches with Judy's Magic Cast-on and increased to 60 stitches. I should have increased more or used a larger needle, since as I went along my gauge got a tighter, so the socks are a bit snug. I'll see what happens once I wash them, since I didn't block them.
I initially intended to use
Priscilla Wild's no-hole shortrow heel from the Lifestyle socks
, since I suspected the Fleegle heel wouldn't play nice with the self-striping yarn. This heel looks lovely, and did in fact have no-holes - a first for shortrow heels with me. It's an excellent choice if this kind of heel fits you, but you hate wrap&turn shortrows. However, as much as I tried, it didn't fit me. I ripped it out and tried again about 3 times, having lengthened the foot, moved things around, etc... but to no avail. That's it, I'm done with shortrow heels when I knit socks for me. Blast my giant insteps. After frogging the heel so many times, I got fed up and frogged the socks in a fit of rage. I usually do anything to avoid starting over, but this time it was cathartic.
After all the frustration and frogging, the final incarnation of the socks went pretty quickly. I love the Fleegle heel. Love it. It's tidy, easy, there are no wrapt&turns, and no picking up stitches. As you can see, it did change the stripes a bit, particularly on the instep, but I don't mind. The fit around my heel is excellent, and I will definitely use this again for toe-up socks.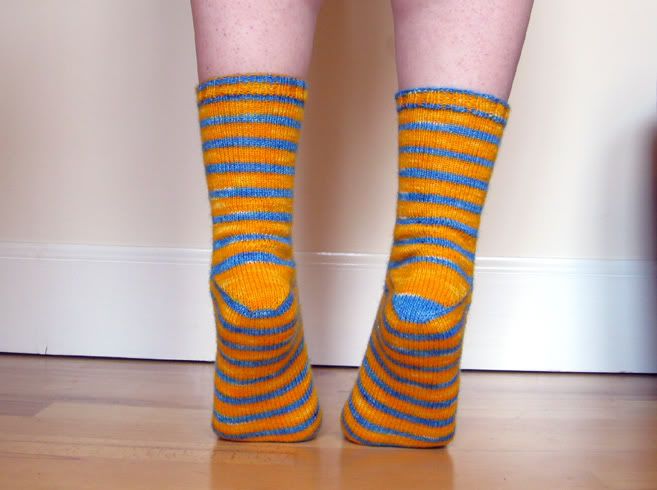 I didn't do any special stretchy bind-off, since I usually find I bind off loosely enough... but this time everything was running tighter than usual, and I think a stretchier bind-off would have been a good idea. Oh well. I can still get them on, and they'll probably stretch out more over time. If not, I'll redo the bind-off at some point.
This yarn is a test for the durability of food-colouring-dyed yarn. I am almost positive it won't run, since it didn't when I washed it post-dyeing, but part of me is still a little nervous that I'll end up with greenish-brown stripes after the first wash. We'll see!
See more FOs at Tami's Amis!
p.s. I got a job! A temporary seasonal low-paying Christmas job, but a job nonetheless. Permission to feel like a productive member of capitalist society, for a few weeks at least :P