Here is what I have on the needles at the moment, just in time for spring.
Please note: in reality, the yarn is a deep/bright teal. Not blue. Not turquoise.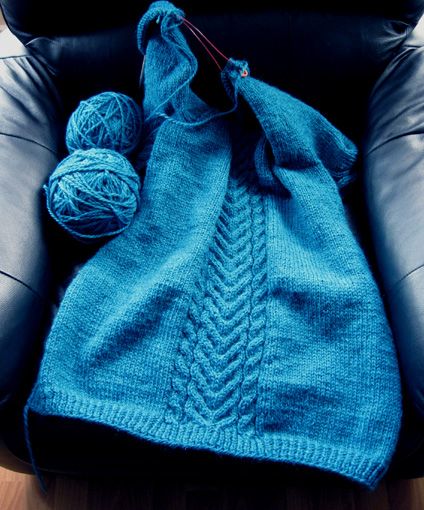 Big, hulking, cozy cardigan. Since Scottish spring often requires coziness, I hope I'll get some use out of it before next year.
This is
Wethersfield
by Cecily Glowik MacDonald. Twice now, I've seen one of her patterns pop up on my ravelry feed and felt an immediate need to knit it as soon as possible. (First time was with
Idlewood
). I received the pattern as a Ravelry-gift from one of my internet friends in a holiday-time pattern swap, and cast on in January with Cascade Eco + yarn.
I've been reaching for
my Vivian hoodie
a lot this autumn/winter/spring, which is made out of Cascade Eco +, so I thought it would be handy to have another sweater in the same yarn. Shortly after I finished knitting Vivian, there was some speedy pilling, and I was a bit disappointed. After years of wear and occasional de-pillings with a razor, it has pretty much stopped pilling - and it has otherwise held up quite well! So I forgive it, and with Wethersfield I know to give it a chance to pill a bit without giving up on it.
I'll say more about the pattern once I've finished, but I just have to say seamless set-in sleeves are magical. Magical! Also, knitting these sleeves two at a time was probably a bad idea - unlike doing socks TAAT, there is no open end, so the yarn gets trapped and wound around and around the sleeve. Ugh. I did not think that one through at all. Unwrapping it is a bit cumbersome, so these sleeves are working up very slowly. Never mind. I'll be glad of it when I finish them both at once.
Check out some more WIPs at
Tami's blog
for WIP Wednesday.