As of last weekend, we've been living in Edinburgh for two years. This called for celebration! So I made some lemon bars.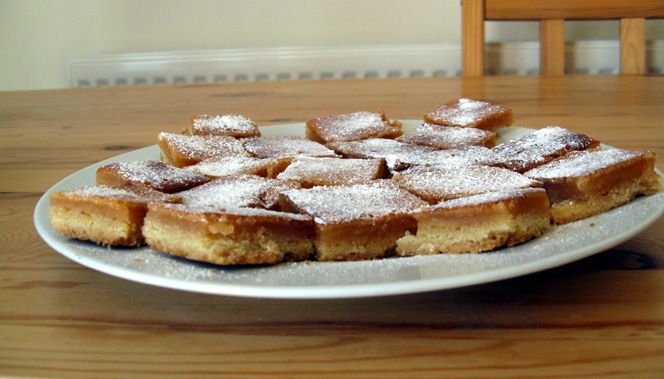 These are my approximation of the
Pink Lemonade Bars
from Smitten Kitchen. The only deliberate changes I made were using strawberries instead of raspberries (because that's what I had on hand), and using only about 2/3 of the butter called for in the base. I also accidentally used icing sugar instead of granulated sugar for the base after misreading the recipe. Not sure how that happened, but it turned out fine.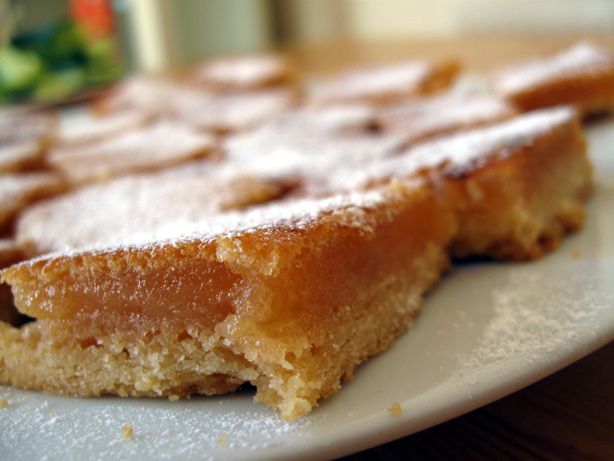 They turned out really well, despite the fact that I nearly burned them. (Icing sugar to cover up the borderline charred spots, FTW). The first time I made lemon squares / bars years ago from another recipe they never set properly, and I was left with lemon gloop. Delicious, but not exactly what I was aiming for. This time, it took longer than it was supposed to, but they did definitely set, and I could cut them into bars without (too much) mess. Hurray! I'm glad they turned out, since I so rarely do fancy baking - things with sugar dusted on them? Things that need to cool before cutting and devouring? What?
The strawberry addition was nice, and smelled really good while cooking, but wasn't overwhelming in the finished product. That's cool - they are meant to be lemon bars after all. Next time I'll try the recipe with raspberries as written and see how it goes.