Sometimes knitters gravitate towards particular types of projects. There are people who knit sweaters exclusively, and others who only make accessories. Some knitters like to knit socks. Some knitters really don't like sock knitting, but they like wearing handknit socks. How is a knitter who doesn't like sock knitting going to get some handknit socks?
A few (Okay MANY months and I'm only getting around to sharing this now) months ago I participated in a Socks/Shawls swap to solve this problem. The sock knitters get to knit socks, the shawl knitters get to knit shawls, and then they swap.
I happen to like knitting socks. I also like making shawls. So when this swap came up, I volunteered to do whichever was required to make the numbers match up. In the end I was assigned to make socks, and partnered with someone who prefers shawls.
My partner was Jen (
Phantominblue
), and
these are the socks I made
.
Pattern:
Earlybird Socks by Cassandra Dominick
Mods:
I wrapped the yarn three times for the elongated stitches, rather than two.
These socks are toe-up with a heel-flap and gusset. I'd never done socks this way before, and I enjoyed it! Generally I avoid toe-up socks when knitting for myself, since standard short-row heels don't fit me well. This kind of heel is similar to the standard heel for cuff-down socks which fit me fine, so I'll definitely have to try it on socks for me some time.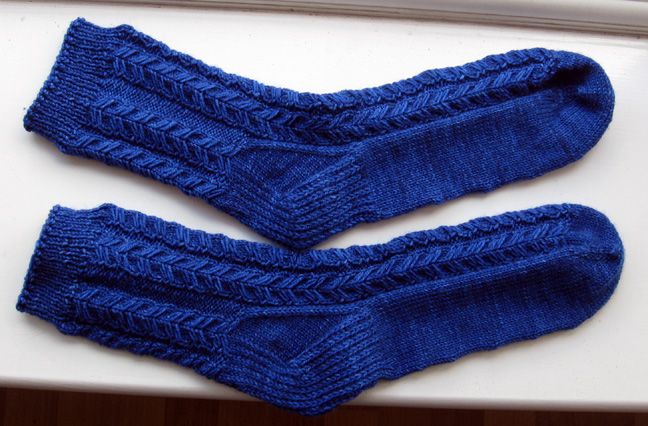 Yarn:
Old Maiden Aunt Merino Superwash 4-ply
in the Tardis colourway.
Love this yarn. I will never get tired of OMA yarns. This is the first time I've made socks with this base. I generally go for wool-nylon blends for extra hardwearingness. I couldn't pass up with opportunity to make Jen some Tardis-coloured socks, though, knowing her penchant for Doctor Who and blue in general. In any case, the merino 4-ply is sturdy for a merino, so I'm hopeful it will wear well.
Here they are on her feet! Knitting socks for people at a distance is always interesting and a bit nerve-wracking, but this time it worked out quite well.
Jen made me a gorgeous
Haruni
lace shawl.
I love it! I've admired everyone else's Harunis ever since first finding it on Ravelry, but it never made it into my projects. It's so exciting to have one that I didn't even have to make.
This was a swapping win. It was a fun novelty to receive a handknit, since I sometimes give handknits as gifts but almost never receive them. And knowing the work that went into it I can appreciate it even more.