My husband's cousin had a baby girl this summer. Of course I had to knit
something
for her!
Pleas excuse lumpiness. I only have grown-up sized hangers and it is making it hang funny.
Pattern
:
Mini Manu by Kate Davies
Yarn
:
Cascade 220 Superwash
(red) and
Rowan Pure Wool DK
(purple)
Mods
: i-cord edging in a contrasting colour. I had done my provisional cast-on with the purple yarn, and liked the colour combination a lot, so decided to finish it off with the same purple.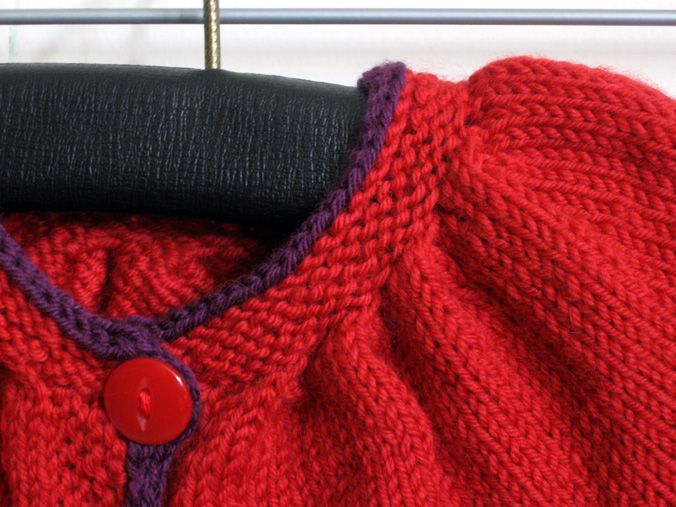 Notes
:
This turned out super cute, if I do say so myself. For a baby sweater it was a bit of a slog, though. The pattern is ALL ABOUT the fiddly details. Mostly worth it: I-cord bind-offs are so tidy and i-cord button holes are amazing, but damn. Never-ending finishing.
There were some editing glitches with the pattern - nothing insurmountable, though. For example, the instructions state to make 5 buttonholes, even though the pattern photos show 3. I was blindly following the instructions and completely overlooked the pattern photos, so I did 5 buttonholes. Not that much of a problem - I actually had 4 buttons to use, and then decided that looked bad, so I used 3 buttons and sewed up with extra holes. Worked out in the end. Also at one point the pattern cut out and I had to wing it until the next step. (During the pocket instructions, if memory serves.) Again, worked out fine, but I was surprised to see that.
The best thing about knitting this was learning about
Sunday Short Rows
. If, like me, you have never felt totally comfortable with how your short rows look, give these a try. They are wrapless, practically invisible, and reasonably simple to execute. Brilliant. Will knit again.
I will think very hard before knitting teeny tiny wee pockets on something again, though. As cute as they are, I'm not sure it was worth the fiddliness.