Last post I showed you the shawl I made for the socks/shawls swap. Here are the socks I got in return!
They are the
Pandora's Box Socks
. The picture fails to capture the beautiful bright purple undertones to the yarn. They are so soft!
Kristi, my talented swap partner, used a
Fish Lips Kiss heel
- I've never tried this heel, but I definitely will in the future. Standard short row heels never fit me very well, so I stick with heel flaps. But this heel fits me really well, even though it resembles a short row heel.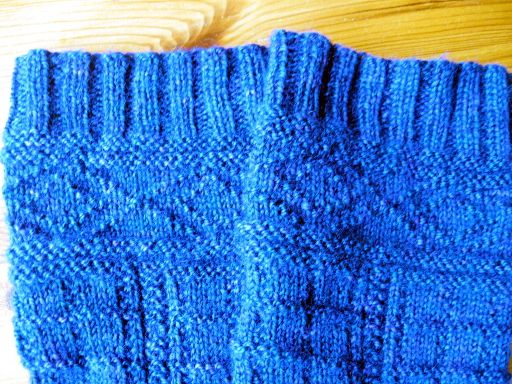 Colours are all wrong in this picture, but there is the pretty cuff detail.
She also sent me some goodies, including tea towel and hand made buttons. Can we talk about how awesome these buttons are? They are copper with enamel, and she made them herself. I am so impressed. For now they are living in my button stash looking pretty, but soon I'll come up with a project for them.
Thanks again, Kristi! It's been a pleasure swapping with you.