Whether or not I finish my November sweater before December 1, at least I can say I completed one sweater this month. So I started it in September - minor details.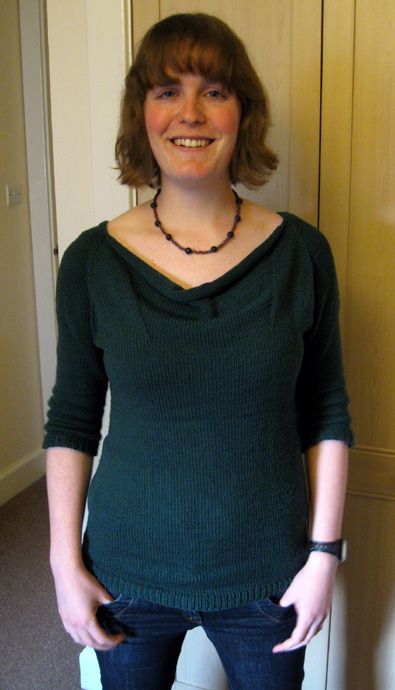 Formerly known as the Green Blob, here is my
Gavotte
. The
pattern
is by Cecily Glowik MacDonald, who probably needs no introduction. This is the second pattern of hers I've knitted, the first being
Idlewood
. Once I wrapped my head around (again) the weird wording for the k1-r/b increase, the pattern was easy to follow. It's probably just me, but I really have a hard time understanding that particular explanation. And I forgot how to interpret it between finishing Idlewood and starting Gavotte, so I had to go on a google expedition to figure it out again. Ah well, maybe now I will remember it! It is a really tidy increase.
Mods:
I added lots of length. I lost track, but I think it was almost 6 inches. Even for me with my long torso, that is quite a lot. I'm tired of things coming out cropped accidentally, so I may have overdone it. It blocked to a comfortably long-enough length. I intended to lengthen the sleeves as well, but ran out of yarn due to adding so much length in the body. It's fine.
The neckline rolls at the front, which is par for the course with stockinette. It was looking massively huge, so I didn't block the edge aggressively to attempt to combat rolling. The pick-up / bind-off edging did help pull the neck in so it isn't massive, but it doesn't help with the rolling. Too bad. I don't really mind.
Yarn:
I used
MillaMia Naturally Soft Merino
in a lovely forest-green colour. The yarn was lovely to knit with. It is very soft and sproingy, with excellent stitch definition. Thus, my uneven stockinette shows up very well. Blocking helped with that, though.
Unfortunately, I don't think it will be very hard-wearing at this drapey gauge. After wearing the sweater for one whole day, I noticed some pilling under the arms. I will likely use this yarn again, but maybe for items that don't experience much friction, and definitely at tighter gauges.
Oh well. I will wear this happily and with careful de-pilling maintenance.
See more FOs at
Tami's blog
.