It's November - have you enthusiastically committed to an unpronounceable, inappropriately abbreviated month-long activity yet? I've done NaNoWriMo once, NaBloPoMo a few times, but never the sweater one before. So this year, my challenge is to knit a sweater in the month of November.
Because I'm a slow sweater-knitter, for me to have any chance of success I knew I had to choose something fairly simple and use moderately heavy yarn. I've decided to knit the
Ladies' Classic Raglan Pullover
by Jane Richmond. If I manage it, maybe next year I'll try something more complicated, but for now Worsted/Aran weight stockinette seems like the best plan!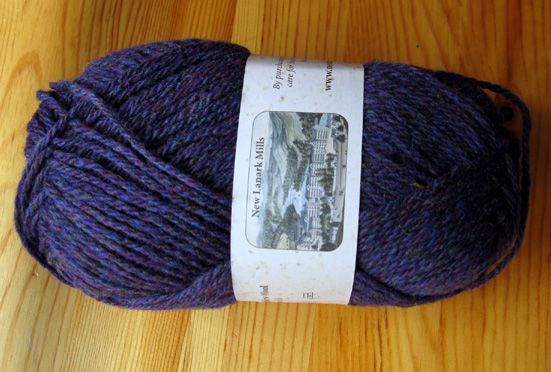 The yarn I bought is
New Lanark Aran
, in the delightful Blueberry colourway.
New Lanark
is a historic cotton mill village and world heritage site, whose mill now produces wool yarns. Shamefully, I've never been to visit, even though it's not that far from Edinburgh - maybe next year! This particular colourway is tweedy and deep - there are so many different colours there that combine to make a purpley-blue. Really, there's green and yellow, and all manner of blues, purples, and teals in there. I'm really looking forward to seeing it knit up.
Now I've got to swatch! What are you up to this November?