Write about the fate of a past knitting project. Whether it be something that you crocheted or knitted for yourself or to give to another person. An item that lives with you or something which you sent off to charity.
Last year I wrote about
an item that has held up
really well to lots of wear. Today, I'll talk about something that hasn't held up quite so well.
I finished my unicorn barf
Skew
socks in June 2010, in the heat of summer. As such, they didn't get much wear right away.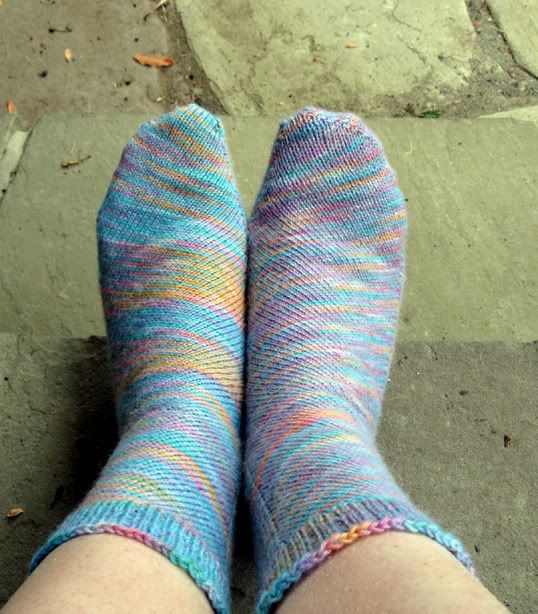 Skew, as of summer 2010
I've worn them a bit this past winter, but they look much worse than they should.
Skew, now
The yarn has fuzzed and faded considerably. The fading is probably my own fault. I dyed the yarn with easter egg dyes - it was my first time handpainting, and maybe the dye didn't set properly in the microwave. The yarn I used was
Elann Sock It To Me 4 Ply
.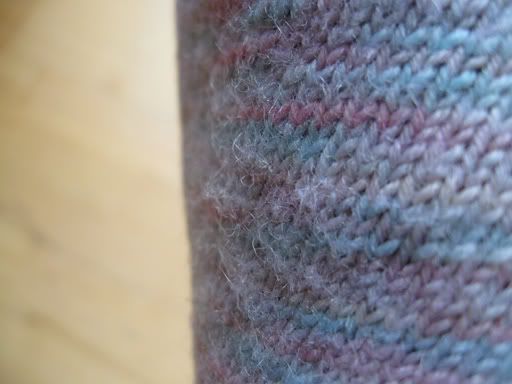 I also dyed some of this yarn neon green, but I'm a bit afraid to use it for socks if it's going to wear this badly. Knitting is a constant learning experience, and I know what not to do for next time.
For more Knitting and Crochet Blog Week posts, search 2KCBWDAY4.