Liesl then, September 2008
I finished
Liesl
in September 2008, and it turned out to be much more versatile than I had expected. I've worn it in every season. It works as a cover-up on chilly summer nights, and as an extra layer to make tank tops viable in spring or fall. Any layer is a good layer in the winter, and Liesl does nicely. Seriously, I think I wore this once a week at least this past winter.
The yarn I used is Zara Plus, a sproingy merino that has pilled a little, but not as much as expected. The sweater has gone from being slightly fancy, to worn-looking and comfortable, and back to presentable - pilling was worst at the middle stage. Miraculously (or, you know, this might be how yarn works), the pilling has pretty much stopped now. Hurray!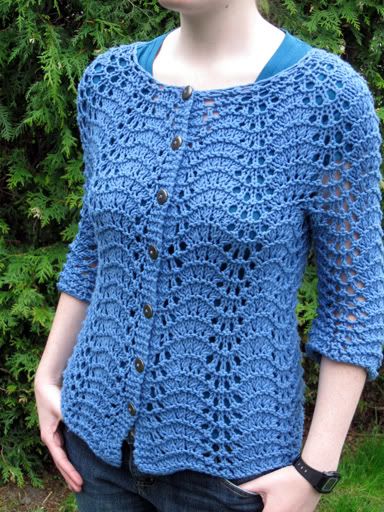 Liesl now, May 2010
It has definitely stretched, and it sags a little more in the back than it used to, but I don't really mind. I actually like how the neckline has stretched; when I knit the wide-neck version, I had expected it to turn out wider than it originally did. When it disintegrates, I know I'll be making this one again!
knitcroblo6