Last year I set out to
match my stash
yarn to patterns so it wouldn't languish indecisively forever more. I managed to allocate my 4-ply "
Too Pretty For Socks
" yarn, and I'm well on my way to using it for its intended purpose. (By which I mean, I've completed two projects and started a third. I'll get there.)
Today I'm finally getting around to my next category: Sock Yarn (aka "Pretty enough for socks," I guess.) The yarns in this category are no less pretty than my un-sock yarn, but probably/hopefully more durable.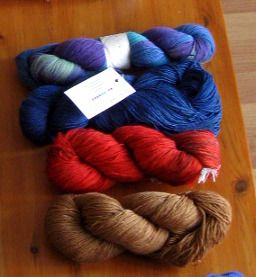 Top to Bottom:
Lorna's Laces Shepherd Sock
: I've been holding on to this for a long time, since people keep telling me it is the ultimate sock yarn. I might have put it on a pedestal, just a little, so I've found it difficult to commit to a pattern. Also, it is heavily variegated - fortunately (or unfortunately) there are loads of interesting patterns out there especially for this kind of yarn. After much internal debate, I've settled on
Mad Color Weave
by Tina Lorin. I'll re-evaluate if it pools strangely when I start, though.
Yarn Yard Cairn
: I have had this yarn almost as long as I've lived in Edinburgh. (4ish years). It is time that I knitted it up! It's quite dark, so choosing a pattern that would show through was difficult. I've settled on
Torrent
by Tin Can Knits, since I think the lace will show up even in the dark colour.
Hand-dyed red
: I believe this is 75/25% wool/nylon. Dyed with Wilton's icing gel colours, it initially turned out the colours of canned salmon. Eeeeh not really what I was going for. Then I dumped most of the rest of the red dye into the pot and there was much rejoicing. I think it will look awesome as
Blueberry Bubbles
by Thayer Preece Parker. Or perhaps strawberry bubbles, in my case. I'm looking forward to a sock with a lot of stockinette but a goodly portion of detail as well.
Hand-dyed tea/brown:
Probably 75/25 wool/nylon. I dyed it using a shedload of teabags a few years ago, and it has been waiting for a project ever since. I actually started knitting
Hedgerow
with this yarn, but I just wasn't enjoying it, so I frogged and thought some more. The winner came upon me suddenly - not from my favourites or queue, but from the new Knitty:
Tauriel
. ALL THE CABLES. This is certainly not television knitting, but I'm enjoying it so far.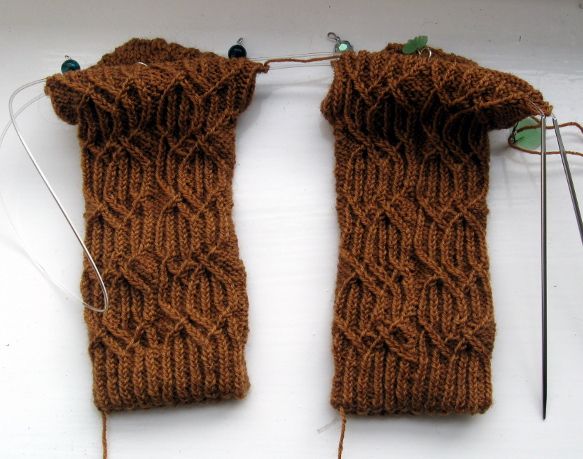 What are your favourite sock patterns?