OH HAI blogosphere. Before it mysteriously becomes February, I wanted to do the customary summary of the last year's knitting. I really fell behind on documenting this stuff, and to be honest I probably won't catch up. So this will have to do and I'll try to do better this year!
In 2014, I had 11 FOs.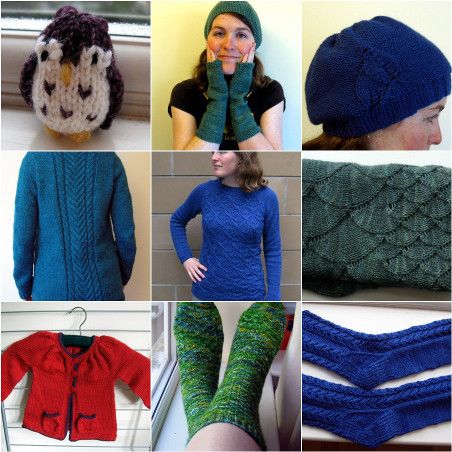 (All links to my ravelry projects)
Top Row:
Tiny Owl
by Anna Hrachovec,
Rye / Ruista Ranteeseen mitts
by Hanne Katajamäki,
Catkin Hat
by Kate Davies,
Grassroots
by Melissa Schaschwary.
Middle Row:
Wethersfield
by Cecily Glowik MacDonald,
Dragonflies
by Joji Locatelli,
Song of the Sea
by Louise Zass-Bangham.
Bottom Row:
Mini Manu
by Kate Davies,
Crystalline socks
by Cailyn Meyer,
Earlybird socks
by Cassandra Dominick.
I also made my dad a hat, but I don't have a picture of it yet. I will do a separate post about it when I get a photo, since I'm super happy about this hat!
Thinking back to my
knitting goals for 2014
, I fulfilled most of them, but not all:
Knit at least two sweaters for myself (check!)
Knit something for my dad (check! For some reason I didn't put this in my original post last year, but it was still a goal).
Knit 14 FOs in 2014 (FAIL.)
What I have learned from this is that goals for sweaters contradict goals for project quantity. I am slow at sweater knitting, and if I want to make sweaters I'll have to sacrifice other output. This is fair. I know it is quality over quantity that counts, but I put in the "14 in 2014" goal because I managed to knit 12 in 2013 and it felt so close!
Bearing this in mind, I have no aim to knit 15 in 2015. I had a hard time coming up with any knitting-specific goals at all, to be honest. However, I have decided that this is the year I need to stash down, so I'm going to focus on that.
2015 goals
1. Stash down, with a few exceptions.
Exception 1: I will buy yarn to make a
Pomegranate
sweater.
Exception 2: I will buy yarn at the Edinburgh Yarn Festival and/or the yarn crawl, should anything unmissable jump out at me. But I will show restraint!
Exception 3: I will buy yarn to make gifts if I don't have anything appropriate in my stash.
2. Finish allocating yarn to patterns in my Stash Match project, including my sweater-quantities.
So. Here we go!