I'm sure this is a common knitterly problem. I have very few matching accessories. Scarves/shawls generally use one skein, so if I wanted a matching hat or mitts, I'd need to plan ahead and get two. Pretty single skeins are usually impulse purchases for me - planning ahead? Nah.
Most of the time I embrace my non-matchy-ness - most of what I have is purple/blue/green anyway, so whatever. (Plus, I have a bright turquoise jacket...) This time, in the interests of making something other than a shawl from my single skein, I've made a matching hat and mitts!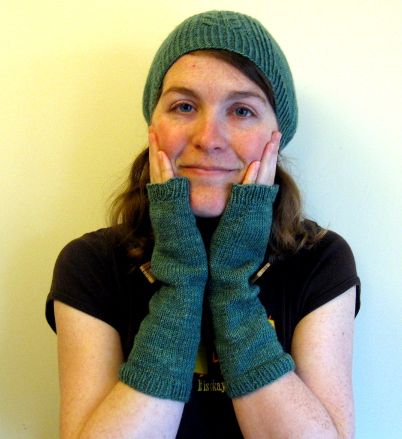 Pattern:
Catkin Hat by Kate Davies
and
Rye / Ruista Ranteeseen mitts by Hanne Katajamäki
Yarn:
Natural Born Dyers BFL/nylon Hi-Twist Sock
Notes:
Catkin:
With this hat, I think I have conquered my unease about slouchy hats. I've always felt a bit awkward wearing them, and I think I've figured it out. Previous slouchy hats have always been too loose around the brim! This one is pretty snug around the brim / my head, and only becomes slouchy at the back because of the strategically located increases. Win!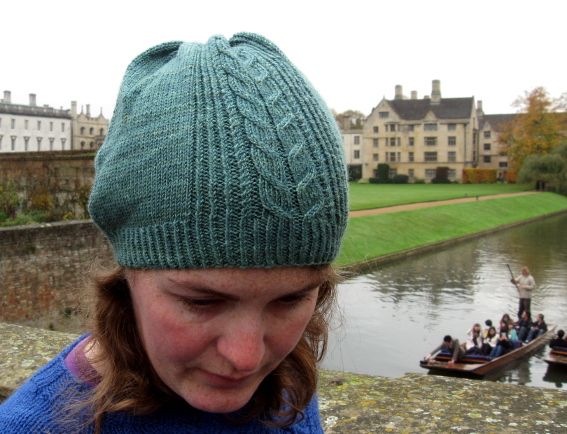 Photos taken during a recent trip to Cambridge - with bonus punt.
One interesting technique employed in this pattern is ALL THE TWISTED STITCHES. I happen to enjoy ktbl, so no big deal. I normally use twisted stitches for ribbing or other situations in which knits are alternating with purls. This pattern calls for twisted stitches for the entirety of the cable pattern, meaning there are lots of twisted knits next to each other. I wasn't sure how this would turn out, but I think it looks okay. Not entirely convinced it is necessary, but maybe it helps define the cables a bit more?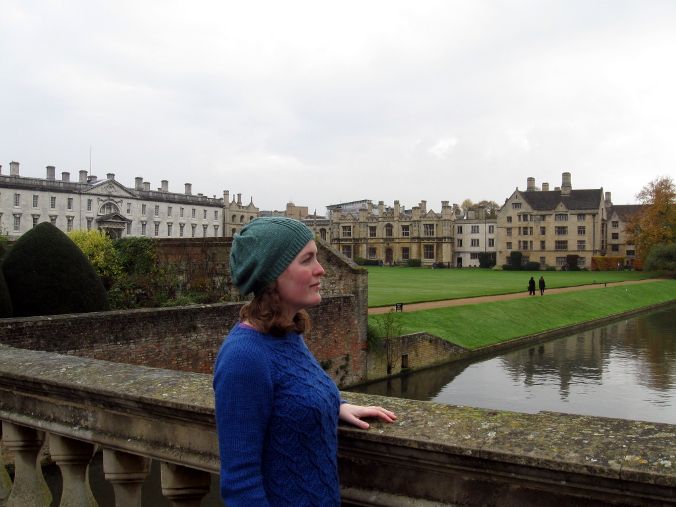 Rye:
I chose this pattern mainly to use some awesome wooden buttons I had in my stash. This was a pretty straightforward knit, though the pattern requires some interpretation. It is translated from Finnish, and some of the directions are not the clearest. (Designer admits as much on the pattern notes, so it wasn't a surprise.) In any case, it's a free pattern and it all worked out. I ended up doing 1x1 rib at the cuff / tops / thumbs because I wasn't paying attention to the directions at first - supposed to do some sort of garter rib. Oops. When I realised my mistake I couldn't be bothered to rip back, so I just went with it. Good enough. :P
As it turns out, I ran out of green yarn, so had to shorten the thumbs a bit and use different yarn for the straps. I dyed some yarn with tea a few years ago, and the brown complemented the green nicely, so I went with that. The only issue I have with the straps is that my buttons are too large for the buttonholes. I will probably keep the straps fastened most of the time, so it's not really a problem.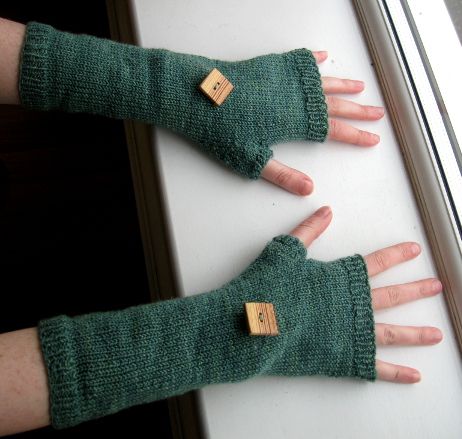 But the mitts are nice and long if I want to unfasten the straps.
Woot for another Stash Match set of projects! I haven't forgotten about this, and plan to allocate more patterns to stash, starting with my sock yarn. Look out for this and hopefully more frequent updates soon!