I didn't post much over the last few months of 2013, but if you saw my 2013 FO mosaic you'll have noticed that I did finish a few more projects. It doesn't feel like the new knitting year has started properly until I post about all my FOs, so I'm going to do a few posts to catch up with what I've made.
Today I'll summarize the holiday-related knitting I did.
First of all, I finished a scarf for my mom from a pattern she picked out when I visited over the summer.
(dirty mirror selfie snapped before I posted it off)
Pattern
:
Drachenswanz
by Klangsonne
Yarn:
Lioness Arts King of the Jungle Sock
, in "Seeing other people"
Notes
: Fabulous soft yarn in the most delicious, deep, semi-solid red. It was lovely to work with. The scarf took me months to complete because I got bored of garter stitch after a while. The pattern is originally written in German - I tried to follow the English translation, but it didn't really make sense to me, so I ended up working entirely off
Amilouna's notes
.
Next, we decided to buy a real Christmas tree this year, since we were staying home for the holidays. This necessitated buying ornaments. (Last time we stayed home for Christmas, we used hexipuffs for ornaments, but this year they were all sewn up!) I took the opportunity to make a tree-topper from a pattern I'd had on my radar for years.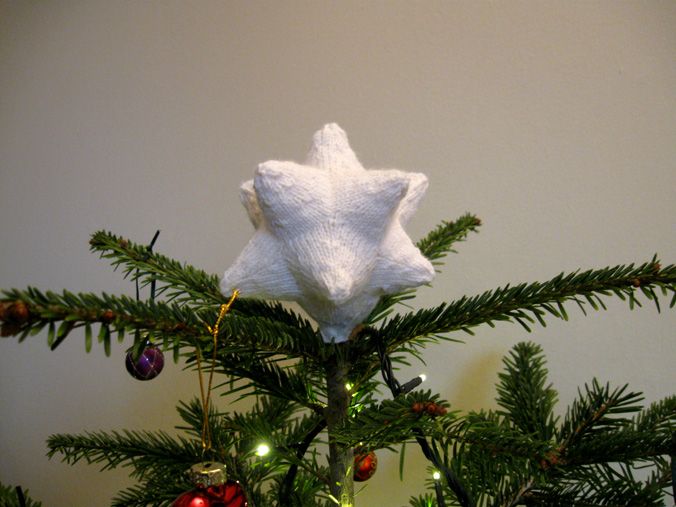 Pattern:
Celestine
by Norah Gaughan
Yarn:
Patons Diploma Gold DK
Notes:
Our tree was small, so the full-sized start would have looked silly. As such, I followed many helpful ravelry notes and made
my celestine
smaller. Each point began with 35 stitches, rather than 55. I didn't measure the final product, but it was a good size for the wee tree. So it would stay on top, I left the final point open at the bottom and inserted and stitched on a plastic tube that my husband cunningly fashioned and drilled holes into. It worked very well!