It's the second day of
Knitting and Crochet Blog Week
, and I am already veering off-piste. Apologies to Eskimimi whose well-thought-out topics are about to get re-interpreted/ignored! Rather than write a dating profile for an FO as per today's topic prompt, I'm using today's post to launch a series of posts I've been pondering for quite a while. You see, it's my stash that needs some love, not my FOs. Hence, Stash Match.
Stash Match: What it is
(I didn't intentionally steal the phrase from anyone else, though some quick googling yields it on a quilting blog. I hope she doesn't mind.)
Over the course of an undetermined number of blog posts, I will attempt to allocate all (or most) of my stashed yarn to patterns / ideas for future knitting. I reserve the right to change my mind about these stash-pattern matches, but having a concrete list rather than a nebulous cluster of vague thoughts will make me feel a lot more organised.
Why I am stash-matching
In theory, I prefer to buy yarn with a pattern in mind. For sweater quantities of yarn, this works quite well in practice. For single skeins of pretty sock yarn, not so much - rather than a specific pattern, I end up telling myself "This could be a shawl(ette). Or it could be socks." That is not untrue; however, it is also not helpful! I end up with lots of beautiful yarn not allocated to a project, and when I need something for a particular project, I just buy more - invariably, nothing in my stash at the time seems right.
I try not to let it bother me too much, since pretty yarn sitting in stash is pretty yarn, but I think I have hit the point where I need to go through it all and at least tentatively allocate yarn for specific projects. After all, I have an extensive queue and favourites list to draw from - surely there are some perfect yarn to pattern pairings just waiting to be recognised! I can always change my mind if something even more awesome comes along.
The Candidates
Most of my stash is in the photo below. Not included are sweater quantities of yarn, most leftovers from other projects, and handspun. (I have some handspun, but I didn't spin any of it myself, so don't get excited). And anything else I couldn't find or forgot about.
After much deliberation, I have grouped it into rough categories as follows:
Green
: Too pretty for socks
Cyan
: WTF yarn
Yellow
: Destined for colourwork
Pink
: Alpaca
Blue
: Sock yarn
Orange
: Laceweight
The Green section is the one that is taunting me the most right now. I have deemed these Too Pretty for Socks because from my perspective they are unsuitable for socks for at least one reason. Some of them aren't superwash, some of them are too delicate, and all of them are so beautifully dyed that I can't imagine hiding them in shoes.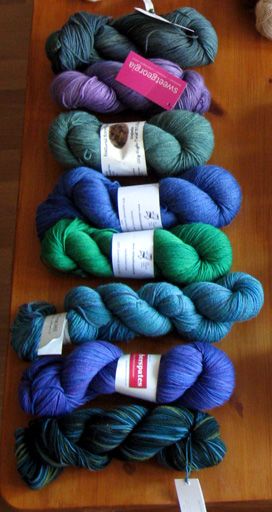 From top to bottom, it includes the following:
Malabrigo Sock
(402 m)
SweetGeorgia Cashluxe Fine
(365 m)
Natural Born Dyers BFL-Nylon High Twist Sock
(370 m)
Old Maiden Aunt Merino/Bamboo 4-ply
(366 m)
Old Maiden Aunt Superwash Merino 4ply
(366 m)
Cherry Tree Hill Supersock
(411 m)
Fyberspates Sheila's Sock
(365 m)
Shibui Sock
(175 m)
So there it is. Team Too Pretty for Socks is up first for stash-matching. After blog week, I will be back with a post talking about the matches and how I came up with them. In the meantime, let me know if you have any brilliant ideas for the above yarn. Do you need to do a stash match, or is your stash already perfectly allocated to patterns/projects?