It's Monday Match. That can be a thing now, right? Or not.
Since starting my
Stash Match project
, I've acquired more laceweight, so I now have two skeins that need projects. This was a challenge since it seems I rarely work with laceweight. (I like it when I do, but it doesn't seem to fall into my shopping cart like 4-ply does!)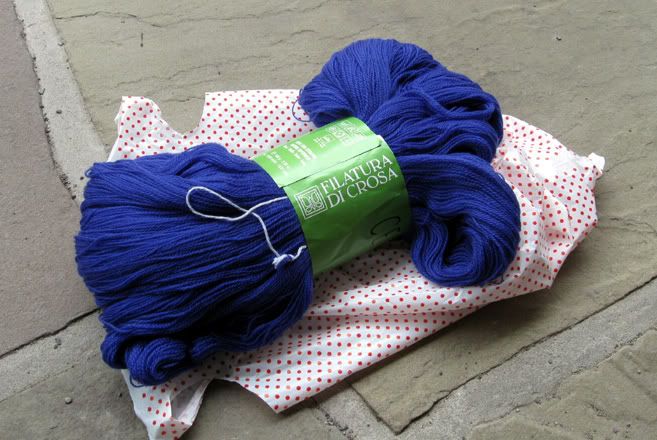 Filatura Di Crosa Centolavaggi
: 1531 yards / 1400 metres, 100% merino cobweb
I've had this yarn for years. It's sentimental yarn, since it's the first yarn that my husband ever bought for me - an impulse purchase from when we visited Bologna and randomly found a yarn shop. When we got engaged I briefly harboured thoughts of using it for my wedding shawl... but then I bought a light gold / champagne coloured dress and decided that undyed yarn would be a better coordinating colour. Sentimentality has prevented me from settling on a project. Plus, that is a LOT of very fine yarn, and my style isn't particularly delicate.
I've been feeling the need for a truly challenging project, since I haven't been stretching myself much with my knitting lately. That + loads of cobweb weight yarn lead me to
Malgven by Lucy Hague
. I've admired her celtic-knotwork shawls for a while, so what better time to try one out? Plus, I've never made a circular shawl before. No time like the present! The pattern is written for laceweight rather than cobweb, so mine may turn out a little smaller / I made need to use different needles.
Maharashtra Silk
: 800 yards/732 metres, 100% silk laceweight.
I got this yarn in a swap last year (hence the glimpse of the tasty cow-themed treats I also received). I've never used 100% silk, but I love silk blends, so I hope this will be fun to knit with. It looks like a good candidate for
planned pooling
, given the way it was dyed. The website I've linked has a tool for figuring out how to get your yarn to pool intentionally in different patterns, but there are also lots of patterns written for planned pooling. I've chosen the
Pooling Summer Mesh Stole
by Gladys We as a starting point. If I'm going to do something ridiculously complicated with my other yarn, I thought I'd do something slightly simpler with this one. I will change to something else if I find it isn't working with my yarn, of course.
That's all for this installment of Stash Match. I have a few more categories to go, and they are proving difficult, but I'll get there eventually!
Do you have stash yarn that stubbornly refuses to commit to a pattern?