I have this corduroy skirt that I've had for years. It is so comfortable that I haven't been able to give it up, despite its horribly faded appearance. It used to be olive green, but years of wear and washing have turned it dingy gray-green. I stopped wearing it in public because it was getting truly shabby-looking. (And not in a shabby-chic way.)
Exhibit A: Comfiest skirt in the world.
Some time in the summer it occurred to me that I could dye it and maybe give it a renewed place in my wardrobe. I went out and bought some Dylon dye, and then packed it away and forgot about it until a few weeks ago. I bought the kind of dye that you're meant to use in the washing machine, and I was a bit nervous to try it in our rental flat, and then I just never got around to it. (Probably for the best that I didn't attempt it; since the landlord charged us for leaving a dirty bathroom mirror when we left that flat, I dread to think what would have happened if there had been any discolouration in the washing machine!) When we moved into our new place with our very own new shiny washing machine, I dug out the dye and skirt and got to work.
Exhibit B: Skirt now deep chocolate brown and once again wearable!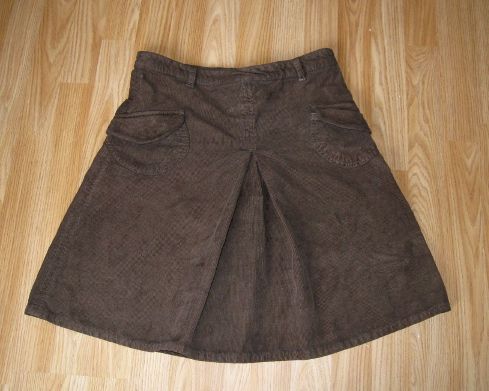 It worked very well. I'm so pleased that I've been able to extend the life of this skirt, since it has been a wardrobe staple for me in years past. This was my first time dyeing in the washing machine, and it was stupidly easy. There was a bit of discolouration on the rubber ring (front-loader), but I think it was mostly pre-existing fuzz stuck to the rubber that got dyed. After a few more washes, and wiping it out with a sponge, it is pretty much gone.
Now my husband wants to try overdyeing some of his faded trousers, so we may give the machine another workout soon.
Have you ever refashioned your old clothes?