I have two WIPs on the go at the moment. They are both gifts, so I'm getting some unselfish knitting done. When I finished my last big project for myself, I was at a loss for what to make next. You might think that having a lengthy ravelry queue would prevent such dilemmas, but no. Right now I'm knitting for others to cleanse my palate, or something, and I think it is working.
First up is the
Little Sister's Dress by Tora Froseth
. This is a gift for my newest little cousin-in-law born recently. I'm now further along than the photo, working on the stockinette body portion.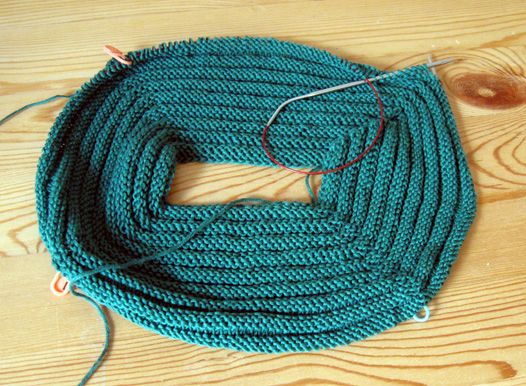 I'm using some cotton yarn leftover from when I made
Decimal
years ago. I don't often work with cotton, since I live in such an excellent wool-wearing climate. As it turns out I'm really enjoying it, and I haven't experienced any issues from cottons inelastic nature. If it keeps up there will be more cotton knits in my future.
Next up is a scarf for my mom. Last month we visited my family in Canada and I brought along a skein of
Lioness Arts King of the Jungle Sock
that I bought at the Edinburgh Yarn Festival. My mom picked the pattern
Drachenschwanz
after trawling through Ravelry. I love semisolid yarns and garter stitch.
The original pattern is in German, and the English translation didn't make much sense to me... Luckily a helpful raveler,
Amilouna
, has basically rewritten the pattern in her project notes, so I am following those.
Because it is Wednesday, you can find more WIPs at
Tami's blog
.