Two baby-related FOs to show today - one sewing and one knitting.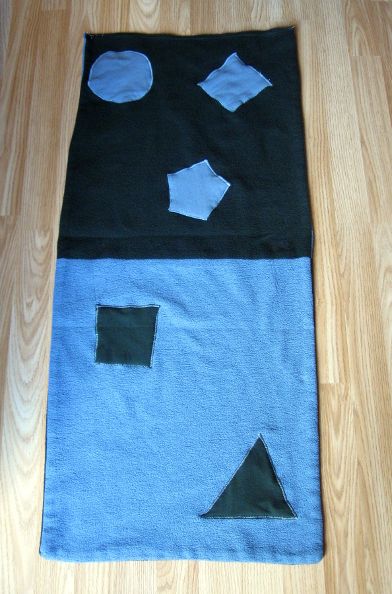 This one is an exercise in upcycling. I try hard not to hang onto things I don't need anymore, preferring to give them to a charity shop or recycle them if I can. Sometimes things are past their best, though - my husband had some old hoodies from university that he decided to get rid of in our attempts to purge the junk room aka baby's room. They weren't suitable for the charity shop since they were a bit faded and awful-looking, but the fabric was still in good condition otherwise. So, I made a floor mat. It's a bit of a weird shape, but I think it will be useful to toss on the floor and put the baby on. It's soft and fuzzy, since I sewed it together with the fuzzy sides out. It is also reasonably thick because there are two layers of hoodie.
I didn't use a pattern - just sewed the hoodie bits together and turned inside out. Then, I cut out shapes and sewed them on through both layers of hoodie. This was the first time I tried to appliqué anything. The shapes are meant to cover the backs of embroidered patches that were on the hoodies, plus a few extra to make it look more balanced. I think it turned out okay - it's no thing of beauty, but then I made it to get peed/puked on, so I'm okay with that!
Next up, a baby knitting classic.
Newborn Vertebrae by Kelly Brooker
is a free pattern with one size. (Other sizes are available in paid-for versions of the pattern).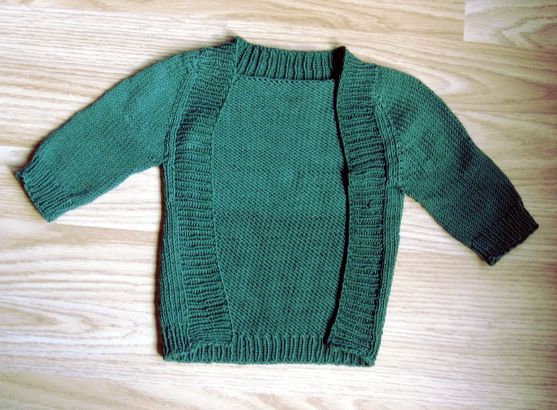 I'm not sure if an open-fronted cardigan will be useful for this baby, but it might be - I'm told it is great for babies who spit up a lot. We'll see what sort of baby we end up with. It uses a minuscule amount of yarn, so I used some cotton from my stash that just keeps on giving. I've had some
Sandes Garn Mandarin Petit
in my stash for a long time: first I made
Decimal
with it, then with leftovers I made a
Little Sisters Dress
, and I still had enough left over to make this cardigan. Now I truly have a tiny amount left - just enough to make one or two accent stripes in something, probably. Between all these different projects, I forgot that I had two different dyelots of the yarn - for Decimal I alternated skeins every few rows, according to my ravelry notes. I didn't remember this fact until I added a second ball of yarn while knitting Vertebrae... and discovered that in a different light there is a slight stripe visible. I almost wish it was more pronounced, since it would look like intentional colour-blocking! Whatever.
Won't be long now until I get to meet this baby, so I have another baby thing on the needles that might not get finished in time. Then again, I might still have a few more weeks to go, so maybe I will! More on that in another post.