Has it been a month since I finished anything? Apparently. I finished a few things all at once in the last few days, but at the moment I only have pictures of one - and for a change it's a sewing FO.
The Divided Basket
, by Anna Graham aka Noodlehead
I've been meaning to make this for ages, and I actually cut out all the fabric a few months ago but stalled because I didn't have the fusible fleece and fusible interfacing required. Then, when I finally went out to buy it my local fabric shop was out, so I stalled again. But! Finally I got all the bits together and it was pretty quick work once I got started.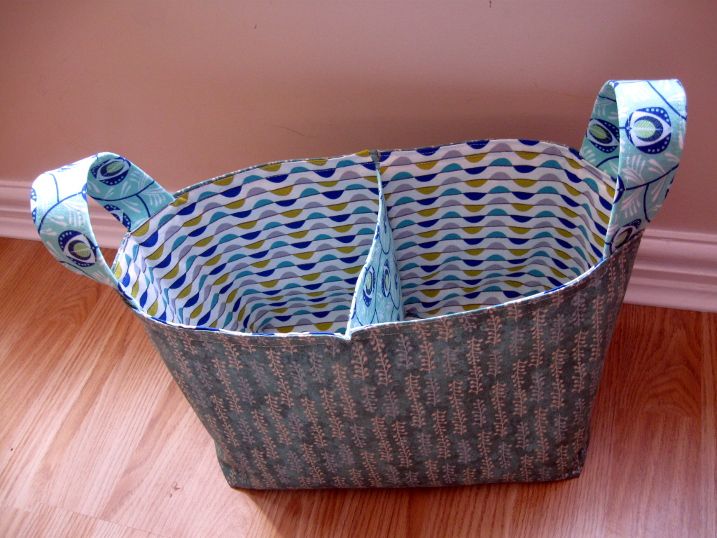 I didn't do the optional outside pocket, and I did the fabric handles rather than the covered handles.
Even for a novice like me this was pretty easy, but I had a few difficulties. First, attaching the divider to the lining was super fiddly and I felt like my hands/fingers were way too big to maneuver it all. It worked out in the end, if a bit wonky. Then, the instructions say to fuse interfacing to the fabric first, then fuse the fleece to the interfacing for the exterior of the basket. Fine, except my fusible fleece simply would not fuse to the interfacing. I had to get creative with some extra sewing and it shows through to the outside in some areas. (If you squint you can see it in the seam in the photo below). Next time, I think I'll pick a stiffer fabric to begin with and just skip either the interfacing or the fleece. (I used quilting cotton for this one.) I can see myself making more, since storage is something I desperately need.
When I found this pattern I thought it would be great to store my knitted shawls/hats/gloves etc by the door, since at the moment I just dump them on a tiny table and they fall off onto the floor and it's a mess. Alas, I think this basket is too small for that task - I underestimated how many shawls I have, haha. There are lots of ways I could use it in my house, though. Maybe diapers, as featured in the pattern photos. Or other baby sundries. Or yarn/knitting - I can always use more places to put that stuff.
Anyway, I'm pleased with this. It's a bit wibbly, but it'll do.