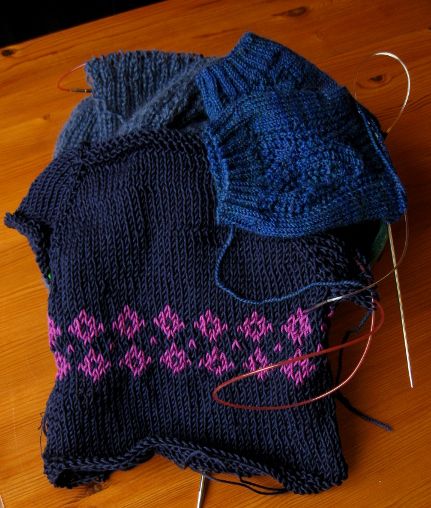 These are my current WIPs. Apparently I'm in my blue period? (To be fair I love blue and use it a lot, but didn't realize until now that all my WIPs were similarly dark blue.)
In the pile is a
Puerperium
baby cardigan in navy blue and pink-purple cotton,
Pecan Crush
cardigan in my reclaimed BFL/Alpaca yarn from my
last pos
t, and
Torrent socks
in lovely Scottish
hand-dyed yarn
I've had in my stash since moving to Scotland in the first place. (Stash-match FTW!)
Three WIPs makes me a little antsy, but I am enjoying them all. I'll finish the baby knit soon enough which will bring me down to two long-haul projects, though don't be surprised if I immediately cast-on another tiny quick baby project!
Do you have colour themes in your knitting without even realizing it?