The stranded colourwork portion of
my Sweet Bunting cardigan
is complete. Next up - i-cords.
I did the colourwork back and forth, as written. Previously, I've only done stranded colourwork in the round, so this was something new. And you know, it wasn't as horrifically terrible as I imagined it would be!
I've never steeked anything either, and I thought that for 8 rows of colour pattern, I could probably stand doing it back and forth instead of rewriting the pattern to involve cutting and slicing. Rowan Pure Wool DK seems like it would be a terrible yarn for steeking in any case - it's pretty smooth and not at all sticky. Have any of you steeked with it? How did it go?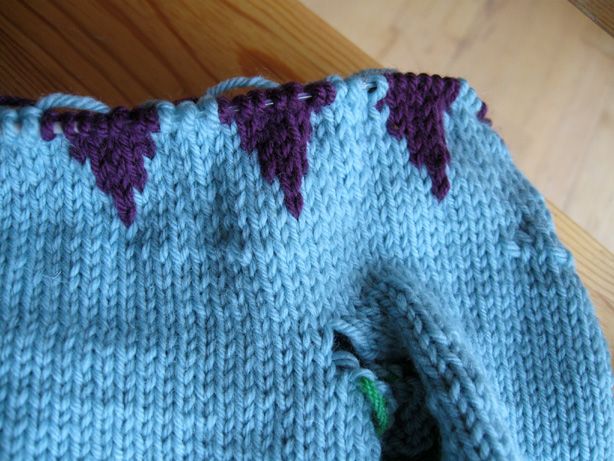 The main problem I had doing colourwork on the purl side was that apparently I can't purl in "English" style for the life of me. (This is funny because I know I've heard some English-style knitters say that they can't learn how to purl continentally. To each their own...) I'm a continental knitter (a picker) normally, and for colourwork I hold one colour in each hand. My right hand knits English (throws), and my left hand knits continental. On the purl side I ended up holding both colours in my left hand so I could "pick" both of them. This probably could have done all sorts of terrible things to my tension, but it looks okay, so I'm not going to worry about it.
More WIPs over at
Tami's Amis