I'm knitting a baby sweater. Hard to believe, but this is the first ever baby-sized garment I've made! It seems not too many people around me are having babies, which probably means they'll all start having them at once some time in the future. Anyway. It's for my little cousin/niece/small person(-once-removed-in-law?) who will be a year old this winter.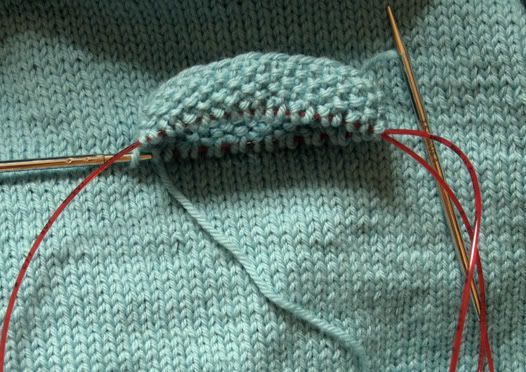 The pattern is
Sweet Bunting
by Laura Chau, which has an adorable colourwork bunting pattern around the yoke. Having done the body section up to the underarms, I'm working on the first sleeve. I haven't reached any of the exciting parts yet, but the stockinette is soothing, and I do enjoy the little seed-stitch cuffs.
Since I've never knit for babies before, I have a question for those with baby-dressing experience. The pattern as written has i-cord ties at the neck to hold the cardigan closed, but no other fastenings. Does this make any sense for a baby garment? In my brain it seems like it would come untied and slip off pretty easily, given baby squirmings, but I don't really know. I'm thinking of adding buttons, since it seems like they'd be more secure that just a bow, but that means adding button holes. What say you, experienced baby wranglers?