The weather here has been grim for the last little while. Rainy, or when it isn't raining it's foggy, or gray, and dark - even though we still have many hours of daylight. I try to stay cheerful in the face of awful weather, since there's not much else I can do about it, but I have to admit that it's starting to get to me.
A ray of cheerfulness and excitement permeated the grim, gray morning today, though, since it was opening-up day for the swap I recently participated in on Ravelry. The idea behind the swap was for everyone to send their parcels off on or around a certain day, and then we'd all open them on the same day. Unfortunately, one or two swappers still haven't received their parcels, but they were gracious enough to let the rest of us open up today anyway.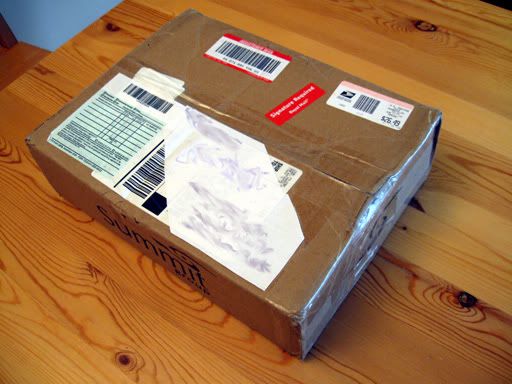 I've had this parcel taunting me for a few weeks, since my swap partner was super-speedy about sending it to me. To resist the temptation, I kept it hidden under piles of paperwork, but today it came out.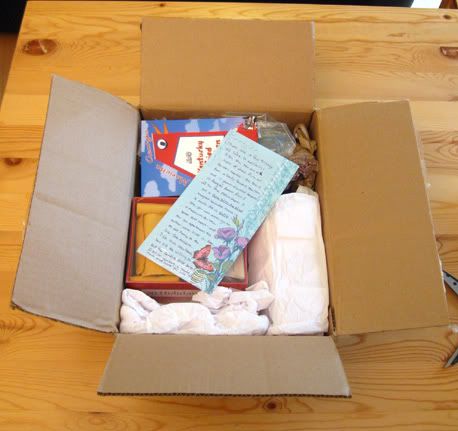 Then I opened it, greedily.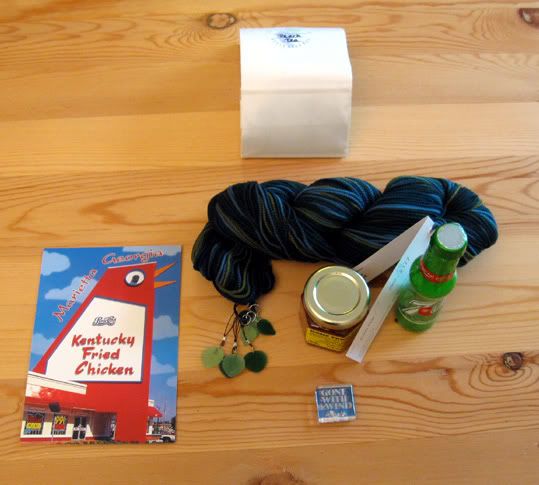 And took out all the goodies. Note the postcard that shows a KFC shaped like a chicken. Whahey!
Required in the swap were yarn, a pattern (gifted through Ravelry on the day), a postcard from your home town, and a local item. My swap partner Jen aka
phantominblue
, lives in Georgia (the US state, not the country), and filled the package full of lovely things with attention to local details.
First, some gorgeous Shibui sock. Despite the fact that it is so grim outside and there's no light, the colour turned out fairly close. It's full of beautiful greens. She also made some stitch-markers that match the yarn. I do love green. There's also a Gone With the Wind magnet - the author lived in Georgia, and it features prominently in the story. I'm ashamed to admit I've never read it, though I have seen the film.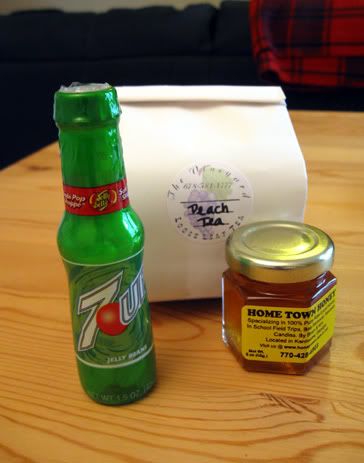 Moving on to the consumable items, there's peach tea - because of Georgia's famous peaches, and some local honey. Mmmm honey. Georgia is also home to Coca-Cola, so Jen included some soft-drink-inspired candy in the form of 7-Up jelly beans. In her note, she mentioned that even though 7-Up isn't part of the coke brand, she thought the candies would probably taste better. Fair enough! I'm not a cola fan, in any case, so it works out.
To round it all off, she sent a ravelry gift of Martina Behm's
Magrathea
pattern. This is a beautiful scarf / shawlette, (with added bonus of being Hitchhiker's Guide to the Galaxy themed) and I'm looking forward to casting on.
So, thank you Jen! This totally made my day, and I feel so spoiled.