I'm in the unusual position of knitting-monogamy right now. One project on the needles! (That is going to change by tonight, though.)
Here is a progress photo of my
Dragonflies sweater
.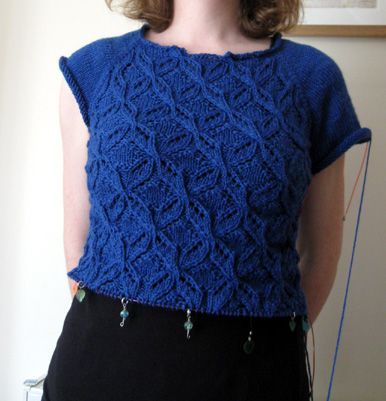 It's taking forever because I'm really slow at lace. Also long torso is long, so I think I've completed just over half of the body. Since I still can't manage the lace while out talking to people, (though it is getting easier), I started on one of the sleeves during knitting group. Judging from how the upper arm fits now, I think I will decrease more quickly for a while for a snugger fit.
In other news, summer arrived in Scotland, and though it has cooled down again a bit, it's still rather pleasant outside. I'm enjoying open windows and leaving the house without a cardigan.
Also, in case anyone wondered whatever happened to my
Stash Match
project, just wanted to say I'm still working on it. My indecision is my worst enemy, plus I may or may not have increased my stash since blog week, which means more skeins to allocate. Oh dear. It'll get there!
See more WIPs on Tami's blog for WIP Wednesday #200!