My
Wethersfield
cardigan is my first FO of 2014!
Pattern:
Wethersfield
by Cecily Glowik MacDonald
Yarn:
Cascade Eco+
in the Pacific colourway.
Mods:
Knitted the body way longer than called for, used twisted rib instead of regular 1x1 rib for the hem and collar since I prefer how it looks.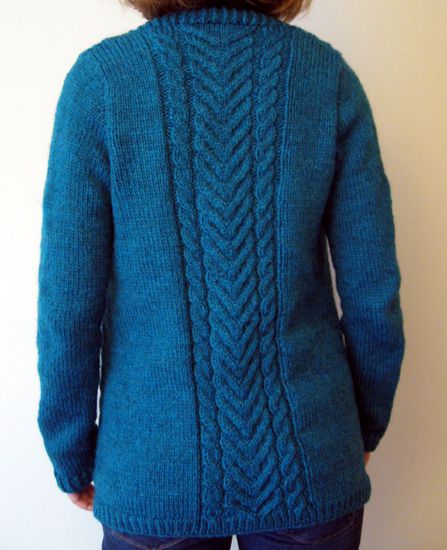 Notes:
Love it.
The pattern was a Ravelry-gift in a holiday pattern swap, and I wanted to start knitting straight away. Even though it is in reasonably thick yarn, the knitting still took a long time, though. My project page claims I started it January 13th and I didn't finish it until April 1st. I just need to accept that sweaters always take me a long time, even when I work on them almost exclusively. (In this case, I did have a few other projects going to distract me, so I certainly was not working on it exclusively. Never mind.)
I'm not used to open-fronted cardigans, and it's actually more open in the front than I was expecting - i.e. I can't really pull it closed at all. But I like it. I've been wearing it almost constantly since it dried. This sweater is very cozy and has been perfect for the particularly grim weather we have been having. Chilly and damp with thick fog - though it seems to be lifting now.
The cable on the back was lots of fun to knit. The only complaint I have about the pattern is that the cable chart is blurry. I haven't seen anyone else mentioning this on Ravelry, so maybe it's just me and my ancient computer? Some sort of resolution mismatch? In any case, it's blurry on screen and it printed out blurry, so it is difficult to read. I'm familiar enough with standard cable charts at this point that I could figure it out - plus the cables were easy to memorize, so it all worked out fine. I also think it's a bit odd that the pattern abbreviations use one style of abbreviation for the various kinds of cable twist, but the chart uses different abbreviations. I imagine this comes from whatever software was used to make the charts... but it's still a bit strange to see. Anyway, that is stupidly nitpicky and didn't affect my ability to follow the pattern, since I didn't really look at the written instructions for the cables and stuck to the charts. Still, I imagine it might be confusing to a beginner who is just learning how to follow charts. I know when I was learning charts I often referred to the written directions to make sure I understood what I was doing.
This was my first time knitting seamless set-in sleeves from the top down. The body of the sweater is done bottom-up, but then the sleeves are done top-down with short-rows. It is magical! I will do this kind of sleeve again, for sure. I'm really interested in trying some different seamless sleeve cap techniques in the future, since I'm not a huge fan of seaming (big surprise), but sleeve-cap type sleeves seem to fit me quite well.