Earlier this year I copped out on on blog week by introducing my
Stash Match project
. And then entirely failed to follow through. Ooops. It has been very difficult coming to a decision about these skeins! Anyway, here is the first post dedicated to assigning patterns / projects to my Too Pretty For Socks category of stash.
For me the obvious choice for pretty sock-weight yarn is neckwear; however, I always feel like I have too much and should try something else. Out of curiosity, I gathered all the scarves/shawls/shawlettes/cowls I could find and put them together.
The resulting pile is smaller than I imagined! I'd say that is far from an excessive amount of neckwear and I could totally get away with knitting some more. Nonetheless, I would like to branch out to include other accessories, like hats and mitts.
The Searching
I began with my existing queue and favourites. I reasoned that my favourites list already included many awesome patterns I had picked out from the mass that is Ravelry. (I also added loads of things to both of these ists over the course of my searching. But anyway.)
Ravelry's
advanced search / pattern browser
function is awesome, and I have used it extensively to prepare this post. Also saved searches on Ravelry have been very useful. Here are a few of my saved searches:
Searching my favourites on Ravelry for shawls, scarves, and cowls, in 4-ply and sportweight yields
102 results
, although this includes some that I have already made, as well as some I never want to make but just think are pretty/impressive/awesome when someone else makes them. The same search in my queue yields
7 results
.
A similar search for handwear in my favourites has
51 results
, and in my queue,
7 results
.
And for headwear:
21 results
in favourites, and before starting this exercise there were NONE in my queue, but now there are
2 results
.
Obviously I'm a serial-favouriter, but I don't think about making hats as much as everything else. As it turns out, I rarely wear hats in the winter here since I'm always expecting it to get colder and it hardly ever does. That doesn't mean I shouldn't wear hats, though - 4-ply hats might be the perfect solution.
The Stash/Yarn Mismatch
A problem I came up against is that my stash doesn't really match a lot of my favourited patterns. For example, my favourites show that I'm obsessed with striped shawls, especially since making
Color Affection
last year. I also love colourwork mittens. Both of these types of projects require two or more contrasting colours of yarn used together. Unfortunately, much of the yarn I have is too similar in colour-value - if used together, the stripes or colour motifs would get lost. Or if not, the yarns have different textures and I don't think they would work well together. I may yet raid some of my yarn in the Sock Yarn category to pair with this yarn in order to have stripes... or I may end up buying contrasting yarn to maximize stripe / colourwork potential. In the mean time, I am going to make my matches in solid colours for now, and if the stash augments / changes, I will re-evaluate. This decision cuts down my matching options considerably, but there are still lots of patterns to wade through.
Despite this mismatch, I've come up with some stash-pattern matches that I can get behind.
The Matching
As a reminder, here is the stash I am trying to match in this segment: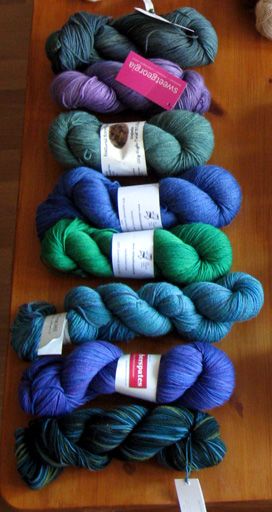 The following yarns are ordered from top to bottom in the photo.
Malabrigo Sock (402 m)
(
Stash link
)
Song of the Sea, by Louise Zass-Bangham
. Gorgeous lacy cowl that perfectly fits the yarn, even down to the colourway "aguas." I previously posted about
starting this project
, and it is going well so far.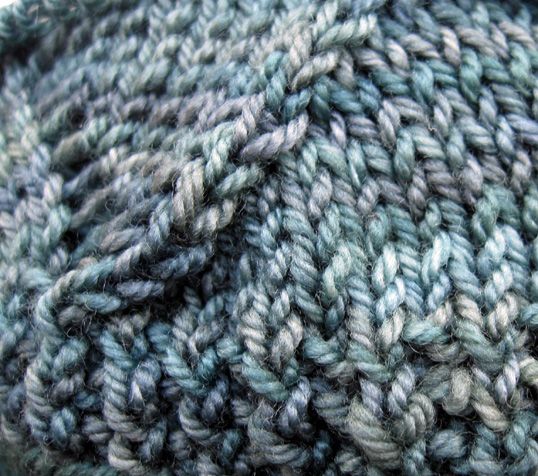 Peek of Malabrigo waves
SweetGeorgia Cashluxe Fine (366 m)
(
Stash link
)
Luna Viridis, by Hilary Smith Callis
, 366 m. I'm intrigued by the shape/construction of this cowl. It is supposed to fit like a shawlette wrapped around the neck, except it's a closed loop so it won't come undone or slide off. The Cashluxe Fine is so incredibly soft that it has to be worn around my neck - not negotiable.
Natural Born Dyers BFL-Nylon High Twist Sock (370 m)
(
Stash link
)
Catkin hat, by Kate Davies
, (160 m). I adore the Catkin sweater, but I may never get around to making it, so I want to make the matching hat just in case. I think the colour and texture of this yarn suits this pattern well: a bit rustic, earthy semi-solid, not tightly spun. Hopefully the cables will show up, but the character of the yarn will also show through.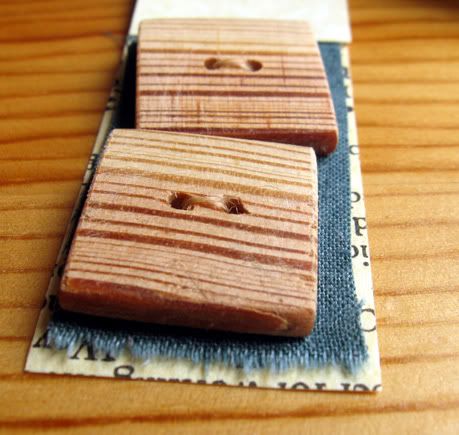 Rye / Ruista ranteen, by Hanne Katajamäki
. I'll have yarn leftover, so I also plan to make matching mitts. This is a simple fingerless mitt pattern that will let me use some of my button stash, as well! The ones shown above I bought at Woolfest a few years ago and they complement the green yarn quite well. It may be a tight squeeze for yarn, but I can always shorten the mitts slightly. I am also considering making mitts that have the same cable from Catkin on them - shouldn't be too hard to modify some plain mitts.
Old Maiden Aunt Merino/Bamboo 4-ply (366 m)
(
Stash link
)
I really struggled to come up with a pattern for this yarn for some reason. The yarn is soft and a bit fuzzy and I expect it will only become more fuzzy as it wears. I finally decided on the
Ice Storm Mitts, by Louise Zass-Bangham
, (125-151 m), and matching
Ice Storm Snug Cowl
, (209 m). I'm hopeful that the textured stitches will still look good when they get fuzzy. Yardage may be a bit tight; in addition, the patterns call for sport weight yarn, so I may have to do some adjustments for gauge.
Old Maiden Aunt Superwash Merino 4ply (366 m)
(
Stash link
)
This is the greenest yarn ever and I absolutely love it. My love for this colour and this yarn has seriously impeded my decision-making. I have been caught in the trap of searching for the one perfect pattern, and nothing seems good enough. Finally, I've made a decision (subject to change, of course).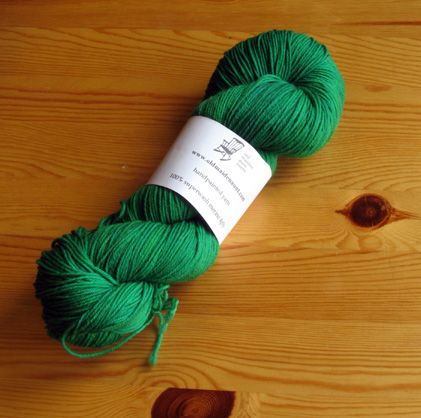 ZOMGGREEN!
The
Cinnamon Stone Shawl, by verybusymonkey
, (338-366 m), immediately intrigued me with its interesting textural lace. I keep coming back to it, and it think it would look great in this yarn - plenty of texture, but also plenty of stockinette to let the yarn shine by itself.
Cherry Tree Hill Supersock (411 m)
(
Stash link
)
Arya Mitts, by Patti Waters
, (343-457 m). I love the neat cables on these. The yarn seems quite sturdy, so I hope it will hold up well as mitts. This is on the variegated end of semi-solid, but I think the colours will show up in short bursts / flecks when knitted up, and so not interfere with the cables. At least, I hope so, but we'll see!
Fyberspates Sheila's Sock (365 m)
(
Stash link
)
Flavia Hat, by Beth Kling
(221-250 m). It's been a while since I did any truly complex cabling, and I feel now is the time. The yarn's semi-solid colours should play nicely with the intricate cabling on this hat. I should have some yarn leftover, so may make matching mitts. Perhaps something like
Totally Cabled Long Fingerless Mitts by Linda Lehman
, only not so long since I won't have enough yarn. Or maybe something based on the cables in the hat.
Shibui Sock (175 m)
(
Stash link
)
Quilted Lattice Mitts, by Jennifer Elaine
, (137-183 m). I know, I recently made a pair of socks in
this exact stitch pattern
. I am not bored of it, though, and it works really well with variegated yarns, so why not go for the mitts? I may change up the pattern a bit to make it more herringbone... or I may not.
So there you have it. Phase one of Stash Match is complete, and now
my queue shows it
. Allocating yarn to patterns has been difficult but somewhat liberating. It's nice to feel organised. Now, I need to get knitting if I'm ever going to start/finish any of these before I get distracted again.
Stay tuned for the next Stash Match post, in which I will look at my suitable-for-socks sockweight yarn.