I've never been on an official stash-down - mostly I am fairly restrained in my yarn purchasing, so I haven't felt the need to stop buying yarn entirely just to bring stash down to manageable size. Yet. The last few weeks have really been an exercise in stashing UP, though.
First, I went to the
St Abbs Wool Festival
at the beginning of March, in the picturesque seaside village of St Abbs in the Scottish Borders. I had never been to this festival before, and I was pleasantly surprised at how much awesomeness they managed to pack into the two small venues. It was fabulous. Not only was there yarn aplenty, but there were also loads of amazing buttons, weaving, spinning, and felting. It was also a very sunny, gorgeous day - I managed to forget my camera, but I wish I hadn't!
I came away with a skein of
Natural Born Dyers BFL/Nylon High Twist Sock
. (And some buttons, but button-stashing is for another post).
As the company name suggests, the yarn is dyed with natural dyes. I am always astounded to see the range of great colours people can get using this kind of dye. My photo doesn't do it justice at all, of course. It is a semi-solid with many different shades of green.
Then, I received some yarn as a fabulous birthday present. When I heard that SweetGeorgia was going to be at
Unravel
, a wool festival in Farnham, I made a special request to my
mother-in-law
, since I knew she would be attending the festival as an exhibitor. I've drooled over SweetGeorgia yarns on the internet for a long time without committing to purchasing any, and I'd never seen it in person - MIL got me a skein of
Cashluxe Fine
, which is Merino/Cashmere/Nylon sock yarn. It is quite possibly the softest thing I have ever touched. Amazing! For once, the colour (Wisteria) is pretty accurate in the photo:
As if that weren't enough yarn for a year, never mind a month, I went on a Yarn Crawl this past weekend with my knitting group. Edinburgh has had an explosion of independent yarn shops in the last couple of years, so why not try to visit them all in a day? Sounds like a plan! (I even brought my camera along to document the proceedings, and then got so distracted by the pretties that I didn't take any pictures. Oops.) We ended up visiting four shops, missing out the two department stores that have yarn, and one of the larger shops - otherwise we wouldn't have had enough time. We also feasted on delicious Malaysian food, ate gelato outside in the cold wind, and ended up in a pub. (As you do.) But! As may be expected, yarn came home with me.
Our first yarn stop was
Be Inspired Fibres
, a beautiful shop that opened last summer. Shamefully, I hadn't been to visit yet - however, I'm sure I will be back frequently. Despite vocally vowing to stick to my plan for the day, which was to buy yarn for a sweater and not random skeins of pretty sock yarn, I failed at the first shop. Some
Malabrigo Sock
called to me and I could not leave without it.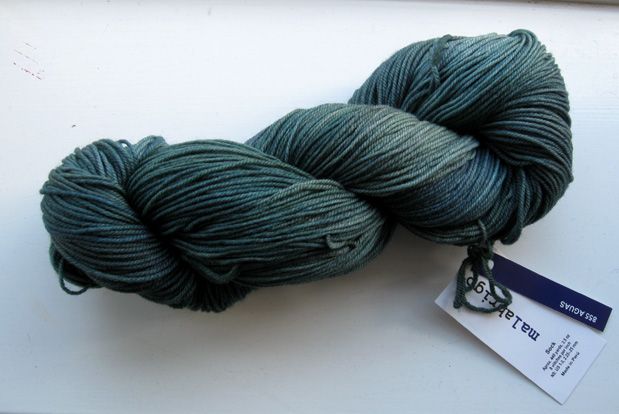 The colourway is Aguas - watery blue-gray-greens that are more complex than pictured. (Truly, it is very different than the Natural Born Dyers' skein pictured above, even if the photos deny it.) This may seem like blasphemy, but I've never worked with Malabrigo Sock before. It's obviously incredibly soft, but it seems more substantial than I was expecting, given Malabrigo's reputation for buttered-kitten-softness. (This substantialness is a very good thing, in my books.) Anyway. There is no way I am making socks out of something this soft and pretty, but more on that another time.
I didn't buy anything at the next two stops (
K1 Yarns
, and
Kathy's Knits
), although Kathy's Knits in particular is a favourite destination of mine for sweater yarn.
Then at our final stop, I finally got my sweater quantity that I had planned on:
Five skeins of
Brigantia Luxury Double Knit
, from
Ginger Twist Studio
, a shop that despite its small physical size manages to stock a huge range of fascinating yarns. (All of us on the yarn crawl fit in at once, but just barely!) I have never used this yarn before, but the colours are fantastic, and it feels sturdy enough for my sweater-knitting needs, so I have high hopes for it.
Phew. It has been a while since I acquired so much yarn in such a short period of time, and it's a bit overwhelming! I'm excited about all these things, and some of them I have immediate plans for, so they won't linger in the stash for too long. Still, these acquisitions have made me realise that a good portion of my stash is just stash without any plans attached. I might need to remedy that soon.