I finished this back in December--my one sweater for 2013--and I've been wearing it a lot.
Pattern:
Gnarled Oak Cardigan
by Alana Dakos
Yarn:
New Lanark Pure Wool DK
in Woodland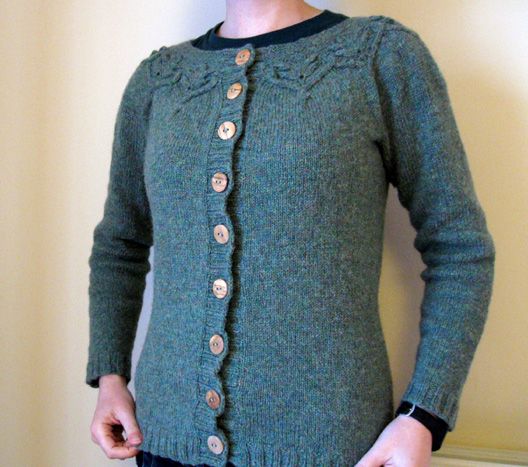 Mods:
Added length and waist-shaping using
Little Red in the City
as a guide. I still haven't knitted any of the patterns from that book, but the measuring guides and customization instructions are very useful. It worked! The fit through the waist is nearly perfect, and I am so pleased. (Sketchy notes on what I did are on my
ravelry project page
, but keep in mind they are based on my own idiosyncratic gauge and measurements.) If I did it again, I would add just a little bit more length in both the body and the sleeves, but I can live with it as is. The sleeves are also a bit weirdly room-y towards the shoulders for some reason, but oh well.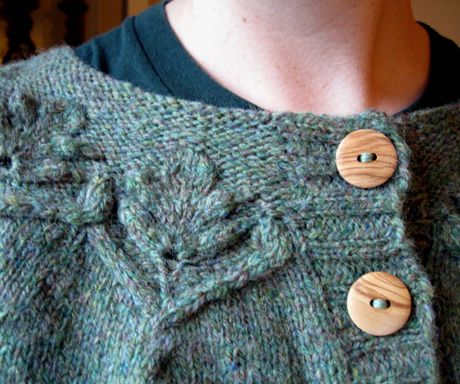 New Lanark is the ultimate sweater yarn for me. I have now used the Aran and DK weights, and I will certainly use both again. It's very hard-wearing, and the heathered/tweediness of it makes my knitting needles sing! The stitch definition isn't extremely crisp, since the yarn has a bit of fuzz to it. Thus, the oak leaves don't stand out as much as they might, but I still think it was a good choice for this project.
One thing I realized as I worked on this is that bottom-up sweaters with yoke details are really really boring for 85% of the project. Once I got to the leaf details I was happy, but I really got bogged down on the sleeves. I'm sure I will knit things with similar construction in the future, but hopefully this project will be a reminder to me that all the boringness can lead to brilliant results in the end.
Next up (eventually): what I am working on so far in 2014!