The
brown blob / devil's tower
is now
a brown cardigan!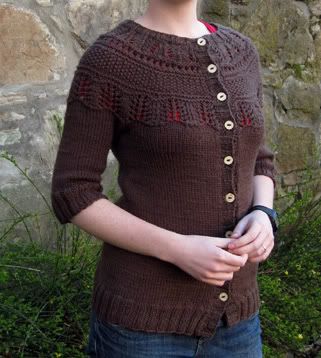 Pattern:
113-17 jacket with raglan sleeve and pattern on yoke etc etc etc
by DROPS design
Yarn:
Rowan Pure Wool Aran
Mods:
-Cast on 11 fewer stitches and omitted garter stitch button bands
-Picked up 98 stitches each side for 2x2 rib button bands afterwards
-Replaced seed stitch edges, neckline, and cuffs with 2x2 ribbing
-Replaced p3tog section in the yoke with seed stitch
-Added some length in the torso
-Did 3-needle-bind-off to join live underarm stitches, rather than seaming
-Changed the top lace motif to be stockinette instead of garter stitch
Notes:
I ran out of yarn as I neared the top of the yoke. Alas, the new yarn I bought was a different dye lot. I alternated skeins for the rest of the yoke, but the button bands are done entirely in the new dye-lot, and it is noticeable if you look closely. (But not so in the photos.) I don't really mind, though.
This pattern rewards determination. Basically, I love the finished product, but I didn't enjoy deciphering the instructions. This was my first attempt at a DROPS pattern, so that may be why I had some difficulty. Lots of people on ravelry have mentioned this pattern's idiosyncracies in their notes, so I was sort of prepared for it, but I'm glad the lazy side of me didn't win.
The chart makes sense in its own crazy way, but it wasn't written following the chart standards I'm familiar with. Since I am pretty used to reading charts by this point, I had a hard time wrapping my head around this one at the beginning. That makes me sound really set in my ways and a slave to the knitting establishment! Oops. What have I become?? Maybe I should be congratulating DROPS on their innovative approach to chart design. Anyway. There are also some weird terminology/translation issues, but with some thinking and trial-and-error it all worked out. In a way, it's good that this pattern made me think. I need to knit more things that require my brain!
This would probably look better with waist or maybe back shaping. I suspect it's rumply in the back because there isn't any. Since I can't see myself from the back, I don't really mind - it fits really well otherwise.
There was a button mishap. I made the mistake of not watching when the clerk at the store counted out ten buttons for me. One of them was cracked and splitting, which I found out when I got home. Frustrated as I was, I considered taking them back, but laziness triumphed. I got over it by deciding I only needed nine buttons instead of ten. Problem solved.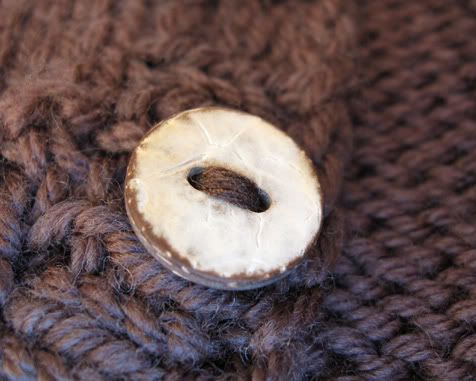 More FOs at Tami's Amis