So I'm answering more of your questions from last time, even though I have a sneaking suspicion nobody really cares. But hey, it's a blog - I get to talk about myself sometimes. ;)
What's your favorite thing to blog about?
FOs! I enjoy compiling all my thoughts and notes about a project into one post. Since I'm a bit of a slow knitter, some of my projects take ages to finish, and after I've done one or maybe two posts about the WIP stage, I don't feel like blogging about the project more until it's done.
If you were to be able to own (not necessarily knit yourself) a life-size animal of yarn, which animal would you choose. One thing to consider: you must imagine that you will have to keep this yarn animal model in your house/flat, so though you may happily choose an elephant/giraffe, what size animal d you think you would like to look at most and also be able to traverse on your way to the bathroom/front door, etc.
I already have a life-sized knitted mouse named Horatio Nelson that lives on the bookshelf! He is small and sneaky enough, I think.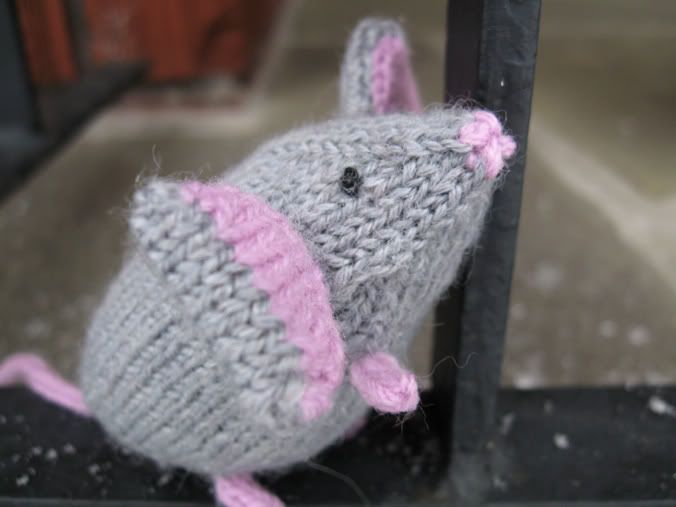 Mousie
How do you like living in the UK and how would you compare it to living in Canada?
I like it here! I'm not sure how to make a comparison, really. Lots of things are strangely different, and lots of things are mostly the same; just when I think I've got things figured out, something comes up that I've never heard of, ever. Keeps me on my toes, I guess.
What inspired you to resume blogging?
That 2002 post in the archives is the only one I did before forgetting this blog existed, so I wouldn't say I was a blogger at all back then. I used to use livejournal a lot, though, and I made the switch to blogger in 2008 (thereby rediscovering the blog I'd signed up for ages ago) because livejournal was making some changes I didn't agree with, and I wanted to try something new. Because I mostly interacted with friends I knew in real life on livejournal, the switch to blogger necessitated a change in style/subject matter and it quickly became mostly about my main hobbies, rather than my personal life.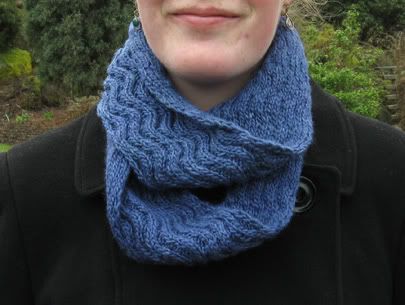 What knitwear designs do you have in the works?
Haha. Other than the Danube Cowl (now up for testing), I hesitate to say I really have anything in the works, unless you count things floating around in my brain. I'm kind of obsessed with infinity scarf/cowl things at the moment, though, so even though the weather is getting warmer I might start working on some more of those.
What is your favorite type of fiber to knit with and why?
Right now I am really into wool-silk blends because they are so soft and shiny. Generally I love wool by itself, though.
Which knit/crochet designer do you find most inspiring?
Oh man. Jared Flood, Norah Gaughan, Snowden Becker, Hannah Fettig, Mari Muinonen, Cookie A... I can't pick just one.