Let's knock that ranty-pants post out of sight, shall we?
Today is my 3rd Blogiversary. Huzzah! I don't think I will ever get over the awkwardness of that word, but anyway. Blogiversary. Technically, I started this blog in 2002 (it was called crudmonkey back then), but I didn't get any further than that, and let it languish for years until I regained interest in 2008. And the rest is history?
It is customary to do something fun on one's blogiversary, so I'm having my first give-away. Win a beautiful green
Zauberball
in the colourway "summer meadow."
A green Zauberball
Incidently, remember how I said my new spring mitts from last week aren't teal? This yarn isn't teal either, even though most of the photos turned out looking that way. Apparently I'm lousy at capturing emerald/forest greens. There's no sun today, which may have something to do with it. So don't be disappointed if you win and receive some decidedly not-teal yarn!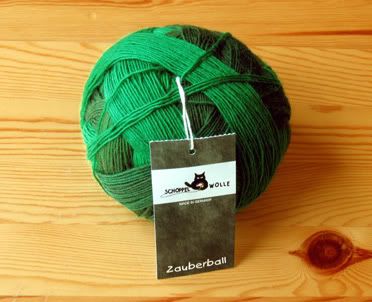 With some photoshopping... still not quite the right colours
To enter, leave a comment with a question for me and some way I can contact you (ravelry ID, email address, etc). Give-away closes at 11:59 pm (GMT) on March 21st. Good luck!