When I first lived in the UK a few years ago, I didn't experience too much culture shock, but I expect everyone around me got tired of hearing about the little differences there were. Now that I live with an English dude, I often find out about little differences that I didn't stumble upon on my own before. This seems to happen most often with food.
For example, this evening I read Smitten Kitchen's blog post about
home made goldfish crackers
. Remembering these cheerful snacks fondly, I exclaimed something to the effect of, "This blogger has a recipe for goldfish crackers! That's awesome!"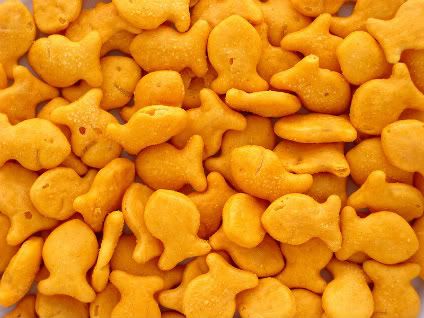 The outburst was met by a blank look from my fiancé.
"You know, goldfish crackers. They are cheesey and shaped like fish? Did you never have those as a kid?"
"No. Are they like Wotsits?"
"What are Wotsits?"
etc.
In a similar way, I've learned about
eggy soldiers
,
Twiglets
, jelly and ice cream, (ew, seriously, ew) and a host of other foodstuffs I can't call to mind right now. Likewise, I introduced him to
poutine
,
beaver tails
, and whatever rubbishy snacks I had as a kid. He put up with my moaning about the lack of readily available good peanut butter, until I found a suitably virtuous (no added salt, no added sugar) version at the health food store. Peanut butter is serious business. Anyway.
We're both a bit puzzled by some of the traditional Scottish things that show up on menus, though.
Cullen Skink
anyone?
(Not that there is anything puzzling about the soup in itself - it's the name that puzzled me!)