I have returned from Woolfest! It was great fun, exhausting, overwhelming, and inspiring. Also, cold and wet - it poured all day on Friday, causing flooding and transportation difficulties the following day.
Here are Ruth and Belinda selling their wares. It was lots of fun helping them out, meeting lots of great people, and being surrounded by lovely, squishable yarns all day. Because of the awful weather, it got quite cold in the Woolfest barn on Friday, so we all wrapped up in the samples to keep warm.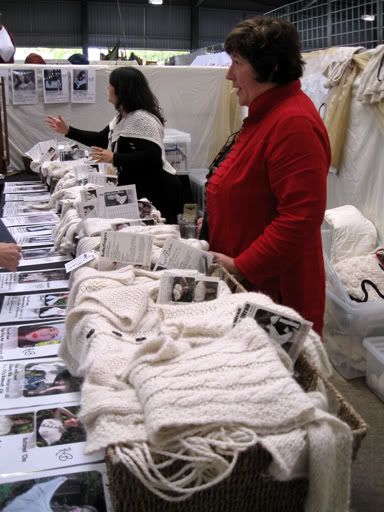 When I had the chance, I explored some of the other stalls, but found it all quite overwhelming. Aisle upon aisle of yarn / wool / fibre / animals / craft materials... It was hard to know where to look first, and difficult to focus! I admire those organised people who kept track of which stalls caught their eye so they could find them again later. I wasn't so smart, but I bumbled through and saw plenty nonetheless.
I loved seeing everyone wearing their own creations. It occurred to me that I look at lots of knitwear online, but in my everyday life don't see many handknits outside of knitting groups. A fibre festival gives people the opportunity to really show off their handiwork, knowing it is perfectly acceptable to accost strangers and admire their gorgeous shawl or cardigan.
I also saw lots of creatures. These hebridean sheep are possibly the strangest looking ones I've ever seen.
And alpacas. Awww.
One memorable encounter was with an older fellow who was going through examining all the wooden buttons / shawl pins / accessories on offer and identifying all the woods used. He said he wasn't a knitter himself, though he used to help his mum out when she was losing her sight by picking up her dropped stitches with a crochet hook once she'd put the knitting down for the day. He was wearing a gorgeous cabled sweater in perfect condition that his mum had made for him when she was 89. He was in the process of reconstructing the end of the sleeve of another sweater she'd made; it had come unraveled in an aggressive spin cycle, but he was reverse-engineering the pattern using a crochet hook and some pliers. Well, damn. I'm impressed!
I'll be back soon with another post on swag and the rest of Woolfest.