Pattern:
Magrathea
by Martina Behm
Yarn:
Stratus, by
Sparkleduck
. (70% Bluefaced Leicester, 20% silk, 10% cashmere)
Mods:
Used 3.25 mm needle instead of 3.0 mm because that's what I had around. Otherwise no mods.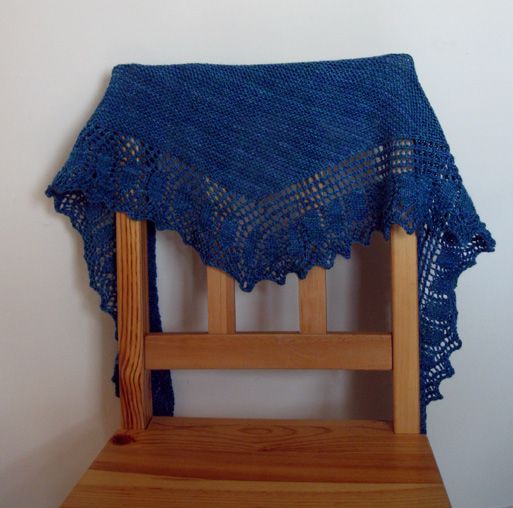 The shawlette has a wingspan of 140 cm. I didn't measure it before blocking, but I'm sure it grew a little. The garter stitch is really stretchy, and if I'd blocked it aggressively, I expect it would have grown even more. It is a great length and depth for satisfactory for bandit-style wearing. I want it around my neck at all times!
The yarn is gorgeous and squooshy. The picture below is slightly more colour-accurate than the others - there are subtle green and blue shifts all the way through. If I could only knit with semi-solids, I'd be a happy knitter. This is my first time knitting with BFL - and in combination with silk it is pleasingly shiny. I would like to try something in 100% BFL to better judge the fibre itself, but that will come.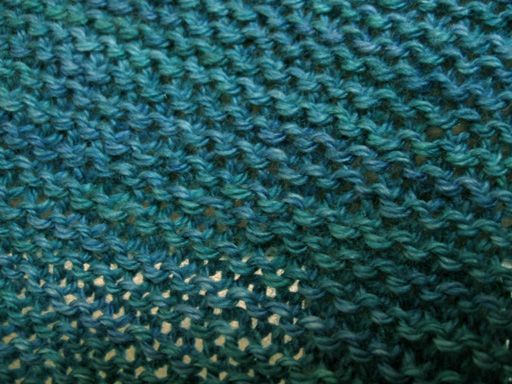 I really enjoyed knitting this. The construction is interesting and not something I had tried before: one of the lace edges is knitted at the edge of ever-increasing garter rows, and the other lace edge is knitted across the entire length at the end. That doesn't make much sense, but I swear the pattern itself describes it very clearly! On my version, my stitch count must have been slightly off (despite my attempts to check it), so there is a bit of a wobble where the two lace edges combine. It's hard to see if you don't know what you are looking for, though.
Not as smug as I appear, though I am rather pleased with this FO.