I promised to show off my Yarn Fest loot, so here it is.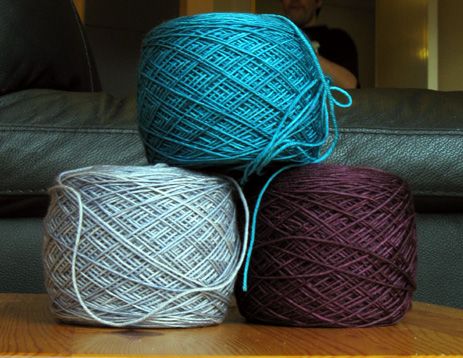 Three skeins of
Old Maiden Aunt
Merino 4ply in Dreich, Jaded, and Bramble. I usually don't mind winding my own skeins, but I took advantage of a yarn-winding-for-charity service providing by enthusiastic volunteers at the festival because I wanted to cast on for
Colour Affection
as soon as possible. Not going to lie - seeing the OMA stuff in person blew my mind. After taking quite a while to work through the crowd to the OMA stall, I settled in crouching by a trunk of yarn, and was dazzled by all the potential colour combinations. I eventually settled on the above three. However, Lilith of OMA was wearing a Colour Affection when I went up to purchase the yarn, and I almost had to rethink my yarn choice yet again.
Yet another Old Maiden Aunt Merino 4ply - this time still in skein form, since I have no immediate plans for it. Colourway: Emerald City. I picked this one up and couldn't put it down, so it came home with me too.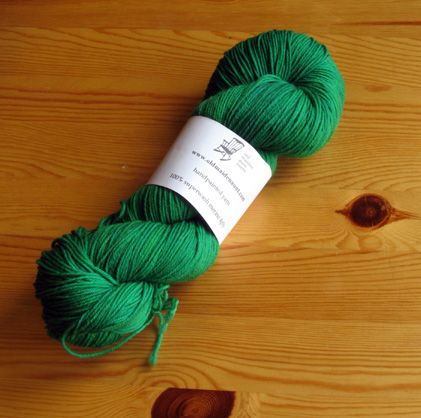 Hint: it's way more luminous in real life.
And finally, a fabulous semi-solid red from
Lioness Arts
.
The yarn is King of the Jungle Sock (80% merino, 20% nylon) in the colourway Seeing Other People. Again, no concrete plans for this one yet, but it can just sit in my stash looking gorgeous for a while.
I know this might count as restrained shopping in some circumstances, but since I rarely buy more than one skein at a time of luxury yarn, this was a splurge for me. An exciting splurge, though - I don't feel at all bad about it, and you can't make me! :P