This past Saturday was the first Edinburgh Yarn Festival. It was fabulous, and I really hope they do it again next year! I'll definitely sign up to volunteer. Having a fibre event like this so close to home was great. It really took the pressure off - I didn't feel like I had to see everything all at once, since I knew I could wander back home and come back again if necessary. I didn't take too many pictures, but hopefully these give a feel for the atmosphere.
When I arrived, I was greeted by this bizarre creature.
It was incredibly crowded on my first circuit of the stalls, but by the time I made it around for a second look, it had calmed down a little. Still, the place was heaving.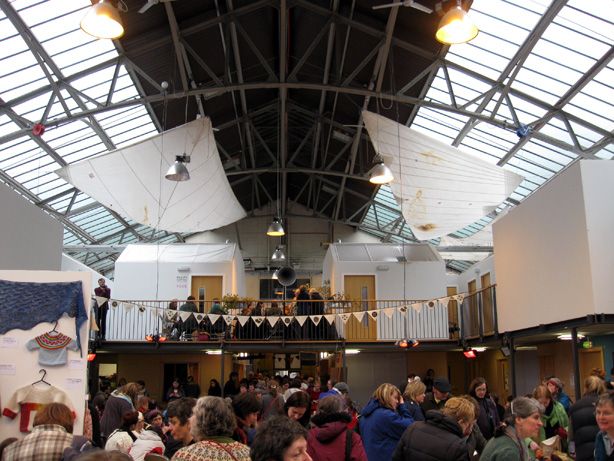 I dropped most of my loosely-determined budget at
Old Maiden Aunt
. The stall was placed in a sort of bottle neck / dead-end, which exacerbated the crowds... It is easy to see why everyone was heading there, though. So much beautiful stuff.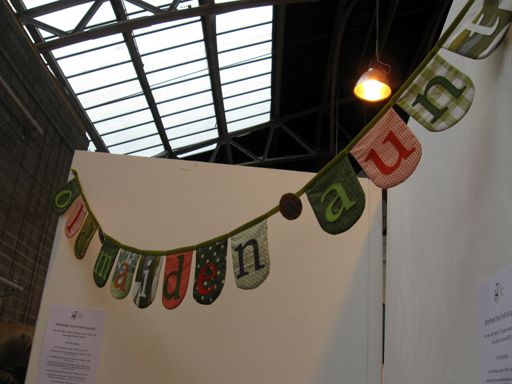 Giant creepy clown face watched over the proceedings...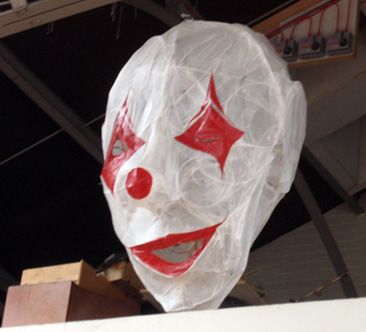 And here's
Ysolda's
big rack-o-samples. The fangirl in me did squeal inwardly at handling these original, beautiful pieces. I declined the offer to try some on, mostly because I was wearing a soggy raincoat and didn't want to fling moisture everywhere. (The weather that day was pretty awful - all the more reason to frolic inside with the wool).
All in all a great time. It was pretty overwhelming to see all this gorgeous stuff in person - most of my yarn-ogling happens on the internet, which just isn't the same. I always feel a bit awkward chatting with people who do things I admire - but everyone I spoke to was lovely. I picked up so many cards to facilitate future internet purchases, in addition to the yarn I bought on the day. Swag pictures coming up!