Yesterday I decided to go off-message
and declare the Hebridean sheep to be my knitting spirit animal. It follows that my mascot project should involve yarn made from Hebridean sheep's wool. This yarn tends to be blackish, which is a departure for me - I almost never knit with blackish yarn, preferring bright and deep colours. For this project, however, I will embrace the wool's naturally occurring shade. What should I make in black(ish)?
Given my admiration for this sheep's resilience as detailed in my post yesterday, I though some sort of outerwear would be appropriate. I have no desire to knit with fine gauge black yarn, so I set my minimum yarn weight to Worsted. I am forever queuing jackets and coats on ravelry, though I have yet to make one. So, a black woolly jacket! I started by looking at my Ravelry queue and favourites, and then did some more searching supplemented by my memory of various jackets I've admired in the past and somehow forgotten to put in favourites.
Here is the shortlist, as captured from
my pinterest board
.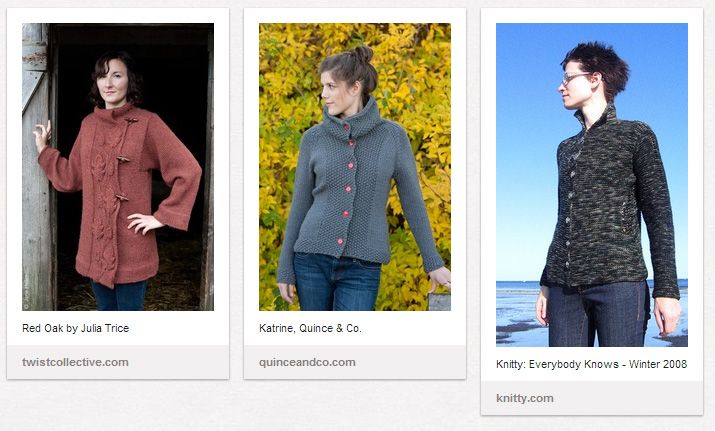 From right to left,
Red Oak
by Julia Trice;
Katrine Cardigan
by Cecily Glowik MacDonald; and
Everybody Knows
by Ann Weaver.
Red Oak drops off because if I make it, I'd prefer it not to be black - those leaves should stand out. Both Katrine and EK are simple and the pattern wouldn't get lost in black. They both would be excellent canvases for fun buttons, also - showing my peacock side, a little? Everybody Knows happens to be an excellent Leonard Cohen song, which is always a bonus. I also think the yarn might suit it better - I've found several options for
worsted/aran weight Hebridean yarn
. (Not all examples on that list actually contain fibre from the Hebridean sheep, but you get the idea). I would probably lose the drop stitch details because I don't want too many vents to let in the wind. However, I'm kind of drawn to Katrine, despite the fact that it calls for bulky yarn and I haven't found much Hebridean wool at that gauge. I figure I can do some maths, maybe hold some yarn double, and make it work. I like that it has different textures represented: stockinette and seed stitch. The high neck / collar would be warm, but not too tight. I might not want it right neck to my neck due to scratchiness, but it looks roomy enough for a softer scarf/cowl to fit underneath.
That's decided, then. Here's to Katrine as my mascot project. Who knows, maybe I'll even knit it.