I have several FOs to share, so I've decided that it is FO Week at Good Enough Knits. First up:
Colour Affection
!
Pattern:
Color Affection by Veera Valimaki
Yarn:
Old Maiden Aunt Superwash Merino 4 Ply
in Dreich, Jaded, and Bramble
Mods:
Added dropped YOs at the edges to keep them loose and did kfb increases instead of m1. I followed this description
on ravelry here
.
Notes:
This was great fun. Garter stitch goodness. I loved the yarn so much that I never got bored of it. I may have said this before, but I'll say it again: I want to knit EVERYTHING in Dreich. It is the most beautiful gray-blue semisolid I have ever seen.
I finished this in May, and I haven't worn it much since it is so warm and squooshy. We actually had an okay summer here by Scottish standards, so it wasn't usually cold enough for warm and squooshy scarves. It's also a bit difficult to wear, especially if I want to show off all parts of the lovely pattern. Oh well.
It's also really large. Picture below shows it blocking on a UK kingsize (US Queen) bed. It doesn't fit! If I'd had a larger space, I could have blocked it straight along the top - the dropped YO edge is quite flexible. As it is, it is slightly curved. I like it, though. If I make another CA I might do it as written and let the tighter top edge keep the curves. As you can see, there is a slight bump in the middle of the gray at the top edge - it mostly went straight with blocking, though.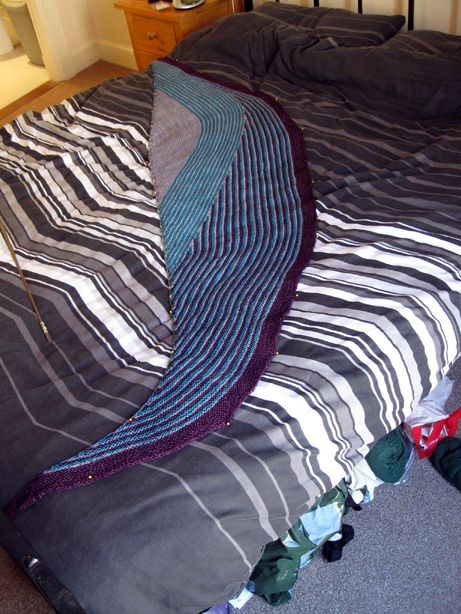 Despite its current impracticalities, I love it and I've sure I'll use it a lot this winter. After all, it goes with pretty much everything I wear.