You want to see more photos of my trip? I'm happy to oblige... I took an obscene amount, since everything was so beautiful.
Huge cathedrals like the Duomo in Florence fascinate me. Something that surprised me about the Duomo was how colourful it was on the outside. I'd seen pictures, but until I saw it up close it had never really registered in my brain how many different colours of marble pattern the outside. Also, the fact that it is packed into the city so tightly,means one can't back up far enough to take a good picture of it from the ground. Somehow this adds to its impressiveness.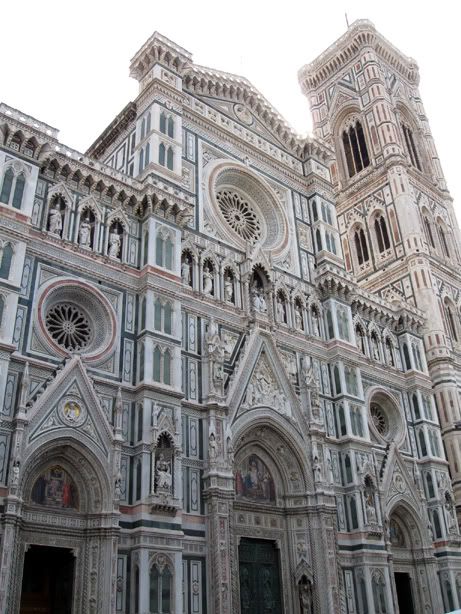 Colourful Duomo
I liked it not only for the monumental architecture, but also for the details. This is my favourite from the outside:
The "Seriously? SERIOUSLY??" Angel, on the outside of the Duomo
Although the hugeness of these buildings impedes decent photography from ground level, there are plenty of high places to climb up for a wider view. We climbed up to the top of the cupola of the Duomo, as show in my previous post, which was fantastic (and cost €8 each, if anyone is counting), but to get a great view of the Duomo one has to climb something else.
On the other side of the Arno river, we climbed a hill to the Piazzale Michelangelo (which was free, haha), and got these views.
The Duomo in full view
I spent a lot of time trying to capture Florence from a distance and from above. It's fascinating up close, too, but somehow I couldn't get enough of these views.
View of the bridges of Florence from the Piazzale Michelangelo