I finished my
neon green socks
!
Pattern:
Twisted
by Jodie Gordon Lucas
Yarn:
Elann Sock it to me 4-Ply, hand-dyed with food colouring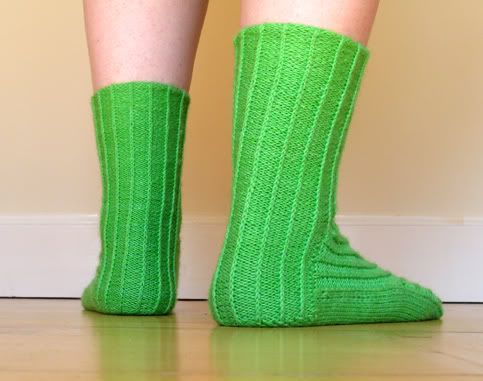 Mods:
Continued the twisted-slip-stitch-rib down the heel flap, instead of doing the woven/reinforced heel. The ankle portion is slightly shorter as well.
Notes:
I made the size M. These took me a long time because I started them
completely wrong
, and I got a bit bored of them partway down the ankle. Once I got to the foot part all hell broke loose! No boredom here, just mad crazy knitting! I did these two-at-a-time with magic loop, and that may not have been the best idea. I knew going in that the socks had reverse shaping, but man - in the moment I got totally confused a bunch of times. But I made it. Woo!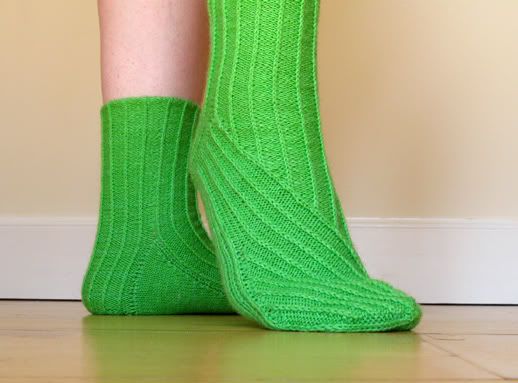 These socks are very clever, and I love the result. This is a "trust the instructions" kind of pattern - everything turns out in the end. I'm not a big fan of how the pattern was written, however: it's confusing to navigate, and some key information is put in weird places. It seems like even the explanatory notes have explanatory notes... This is okay in Terry Pratchett novels, but not so great in knitting patterns, in my opinion. YMMV. There were some things that I wanted clarification about that were completely ignored, while other (seemingly obvious) things were over-explained. Obviously, what's obvious to me isn't necessarily obvious to others, so fair enough. (Let me say obvious a few more times. Obvious obvious obvious.)
One of my problems is I've gotten a bit cocky when it comes to sock knitting, so I don't pay as much attention as I should. When non-standard sock constructions come along, I'm bound to do something dumb in my over-confidence. I know how to make socks - I don't need to read these wordy instructions thoroughly! (Except, you know, I do.) Consider me duly chastened.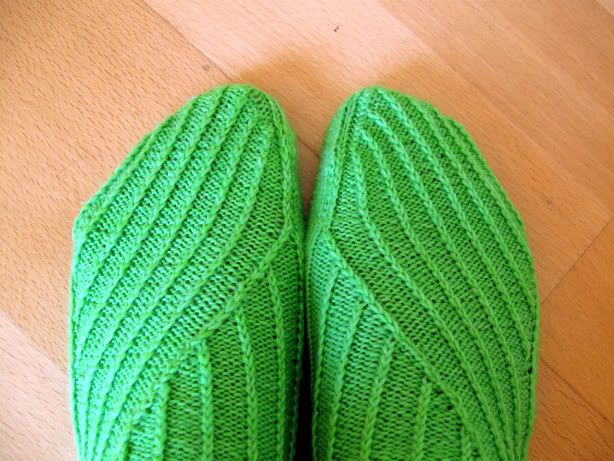 Whatever. In the end, I love them. The toe-petals look just how I imagined, and I think they are so sweet. I may or may not ever make these again, though.
See more FOs at Tami's Amis!