My
bug mitts
are finished! According to my ravelry notes it took me a month, but it felt even faster. Super fast for me and colourwork, I guess.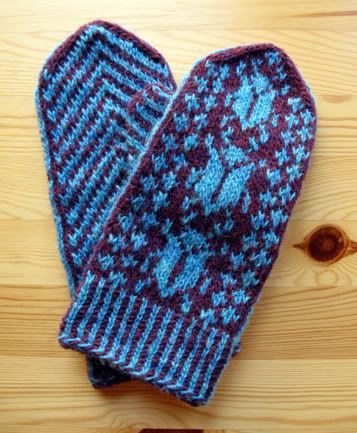 Pattern:
Entomology Mittens
, by Adrian Bizilia
Yarn:
Mystery yarn from my mom's stash, same as I used for her
snail mittens
last year. It's a rough, rustic, sticky single that isn't the same thickness throughout, but generally fingering/sport weight.
Notes:
I found this colourwork pattern to be very intuitive, which is one reason it went so quickly. For the palm, I didn't need to look at the chart once I'd done a few rows; for the back of the hands, I consulted the chart to make the beetles, but the little crosses on the sides happened almost automatically.
I had some wonky tension things going on, but they mostly blocked out. If you look closely, you can see that one side of the palm is neater than the other. This happened on both mittens, and I'm not sure why. My best guess is that the way the mitten hung off the needles while I was working on the second half of the palm changed my tension. Or something. Anyway, it doesn't bother me too much.
This was a really fun knit, except for the thumbs. Argh, the thumbs! I've done afterthought thumbs like these before, but I must have pushed the experience out of my mind. Unlike some, I don't really mind how the afterthought thumbs fit, but I found creating them to be incredibly fiddly. Removing the waste yarn knit into the palm and picking up the stitches at the base of the thumb was easy, but for some reason figuring out which miscellaneous loops were stitches for the top of the thumb was very difficult. I meant to scour the internet for hints after the first mitten, but then I couldn't be bothered, so blundered through the second thumb in the same manner. They turned out fine, but I didn't enjoy doing them. Does anyone out there have any tips for stress-free afterthought thumbs?
Anyway. Thumbs aside, I loved making these mittens and would totally make them again. Except I have about 10 more stranded colourwork mitten patterns in my queue/library to get started on. This winter I will have warm, cozy hands.