Here's a WIP I haven't mentioned in a while.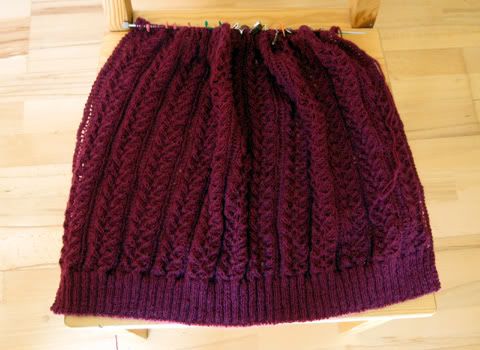 The lumpy lace will one day be a
Honeybee Cardigan
. Don't let the crumpledness and straight needle deceive you - this cardigan is knit seamlessly. The picture shows the fronts and back up to the underarms. The reason it is so crumpled and on a straight needle is one part gauge trouble, one part metric conversion fail, one part brokeness, and three parts stubbornness. (That's right, there are six parts to this snafu. I don't know.)
Here's what happened. I couldn't get gauge on the suggested needles, so I moved down a size, which I only have in straight needles, dpns, and a very short circular. I got gauge, and started the thing on straight needles before my trip home in April, planning to buy some longer circular needles of the right size at the LYS in Ottawa, since they carry circulars with flexible cables that I like. (Hiya Hiyas, in case anyone is wondering). I went to the yarn store, bought several circular needles to round out my collection, left, eventually flew back to the UK, and took stock.
Oops. I needed 3.0 mm circular needles. I bought US size 3s. Now I have a 3.25 mm circular, which isn't a problem and I know will come in handy eventually, but it doesn't help me for this sweater. Never mind! As to why I haven't gone out and bought the right size circular needle, it's mostly stubborness at this point. Now that I'm at the underarms and working on the sleeves, I'll have to come up with a proper needle, I guess. Sigh. What, ignoring a problem doesn't make it go away? ;)
More wips at Tami's Amis!