I dyed more sock yarn the other day (75% wool, 25% nylon). This time, I didn't attempt to keep the colours separate or mix them evenly. I wasn't sure how it would turn out, but I like it!
I used yellow, green, and blue - the other colours mostly ate the yellow, producing yellowy-greens. I used way too much green paste, and some bits ended up almost black, and small sections here and there stayed white.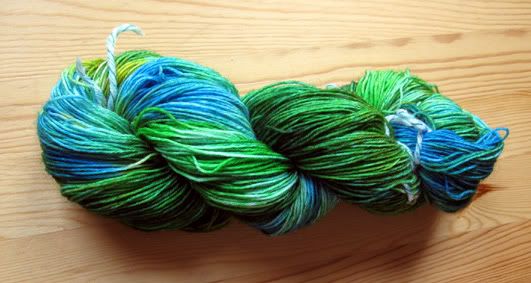 I haven't reskeined it yet, and I look forward to some pretty crazy pooling when I knit it up.
I quite like the accidental approach to dyeing: pour some here, pour some there, spill some everywhere = awesome multi-coloured yarn!
So tell me. If this was for sale, would you buy it? Why or why not? ;)