Not much to show for myself these days. I have two works in progress at the blob stage of knitting, so they'll have to do for today.
This brownish blob will eventually be the inspiringly named
113-17 jacket with raglan sleeve and pattern on yoke in "Silke Alpaca"
from DROPS design. Oddly enough, it doesn't have raglan sleeves, so I have no idea why it is called that. But never mind. I am rising to the challenge, since the pattern has some idiosyncracies and a wacky wacky chart... Also I'm doing a few mods that other ravelers have done as well, so it may not end up resembling the original. Whee!
Watch while I attempt to be artistic with the brown blob.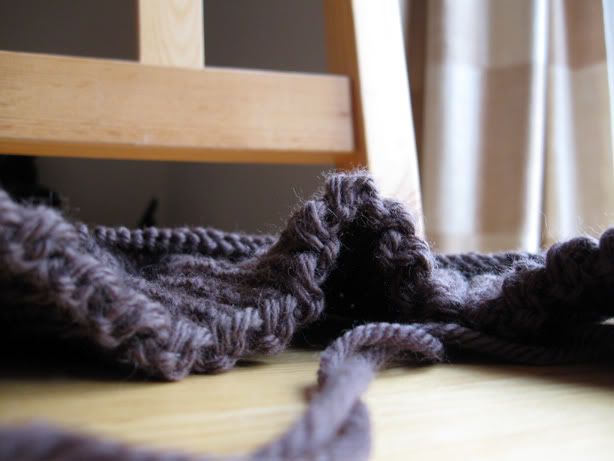 Blog blob blobby blob
Next up: blue blob.
This is an experiment in Manos Silk Blend that I hope will turn into my first written pattern. It's a circle-scarf / cowl thing, or will be eventually. I love this yarn, and kind of want everything I wrap around my neck to be silk blend. Heh.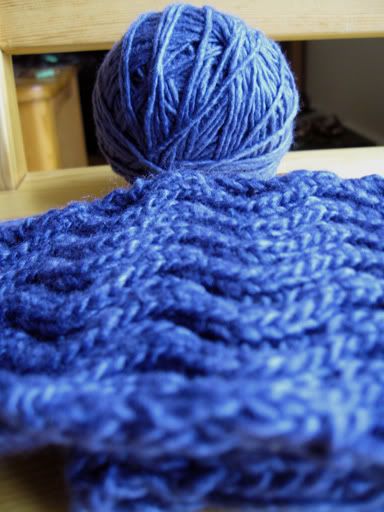 It's not really this colour. I did some colour correction so it no longer looks turquoise, but the real colour is darker and deeper.
That's me done. Off to apply to more jobs I won't get! Okay, no more whining. (But seriously, Universe? Get someone to hire me. I swear I'm talented and awesome.)
See more WIPS at Tami's Blog!