I can finally show you the
Podster Mitts
I made for my brother for Christmas. He carries around an mp3 player all the time, so I thought he'd appreciate the clever "ipod thumb" flaps.
Pattern:
Podster Gloves
by Glenna C.
Yarn:
Rowan Felted Tweed DK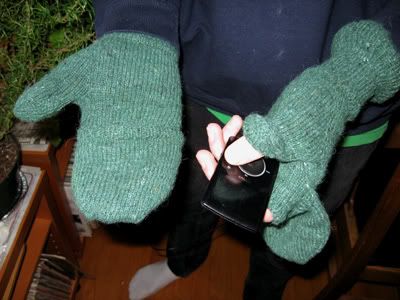 Notes:
I wanted to make this man-sized and warm, so I used a DK yarn instead of fingering weight. Thing is, felted tweed isn't a true DK - I later learned that its recommended gauge is DK to allow for drapiness, etc. Nevermind. I actually like how the fabric turned out at this non-drapy gauge. My gauge was about the same as the pattern called for, but I increased the length as I was going. They seem to fit, since my brother's hands are narrow but long.
The pattern is awesome, but quite fiddly. It has to be fiddly because flip mitts are constructed in a fiddly way no matter how you look at it. I definitely want a pair of these for myself, but it will be a while before I can face doing all those fingers again. (Thank goodness I didn't do the full glove option).
I finished these at the beginning of December but forgot to take photos before I sent them off, and it took a while to get photos of them, since people with lives understandably don't think blog photos are a top priority! Heh.
See more FOs at Tami's blog!