Say hello to my
first FO of 2011.
Pattern:
Idlewood
by Cecily Glowik MacDonald
Yarn:
Texere yarns Troon Tweed
in the Donkey Tweed colourway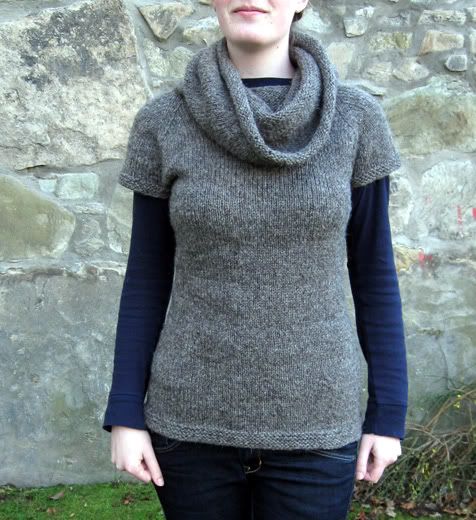 Mods:
I went down to 5.5 mm needle and used a 6.0 mm needle for the cowl. I made the 36 3/4 in size at a smaller gauge, hoping to end up with about 34 in. It seems to have worked - the finished sweater has some negative ease, but not so much that the loose gauge stretches out.
I added extra rounds of garter stitch on the sleeves and bottom edge since the garter stitch edge of the cowl was rolling like crazy. In the end, I like how the cowl rolls, so that part isn't an issue, but I'm glad the sleeves and bottom edge don't.
I made the pockets as swatches, but in the end decided to leave them off the sweater. I couldn't get them to look right, and although they look adorable on some people, I didn't think they were working for me.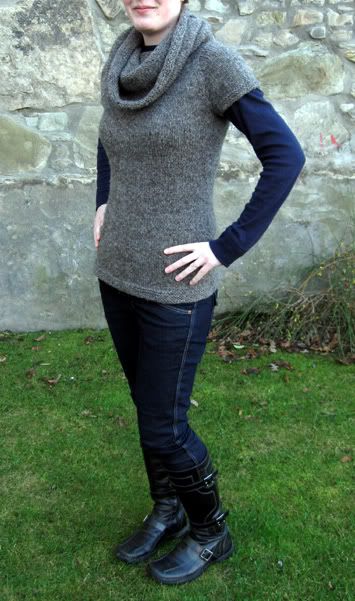 Notes:
According to my
Ravelry notes
, this took me exactly 2 months. Since I spent much of that time knitting gifts, this actually felt like a much quicker knit. One of my quickest sweaters, really, despite the fact that the cowl itself almost counts as another body of a sweater. No sleeves, but it does have two bodies.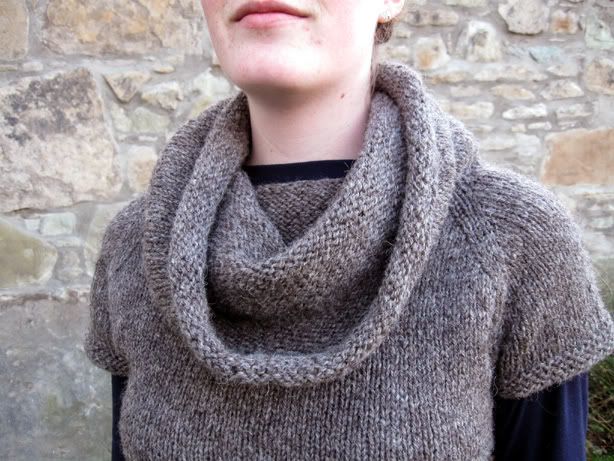 The photo above shows the colour a little better: it is brown-gray, not just gray. (Next time I will choose a more contrasting backdrop and not get photos in front of something the same colour.)
I had a hard time figuring out the increases - the videos and photo-tutorials out there for k1 b/r or equivalent mostly just confused me more. Maybe I was being especially dense. In the end, I THINK I did them right with a little coaching over the phone from a knitting expert; anyway, they look fine, so whatever I did worked.
I can use it as a hood, but I probably won't.
Idlewood is really warm and comfortable. I know I will wear this a lot. I was a little worried that the yarn would be too scratchy - it is hearty and sheepy and not particularly soft. However, it doesn't irritate my neck at all. (Maybe I'm tough? Heh). I am convinced this yarn will be durable as well, despite loose gauge, which is awesome. No pilling please! It does shed woolly hairs a bit, but I don't really mind.
Told you it eats my head!