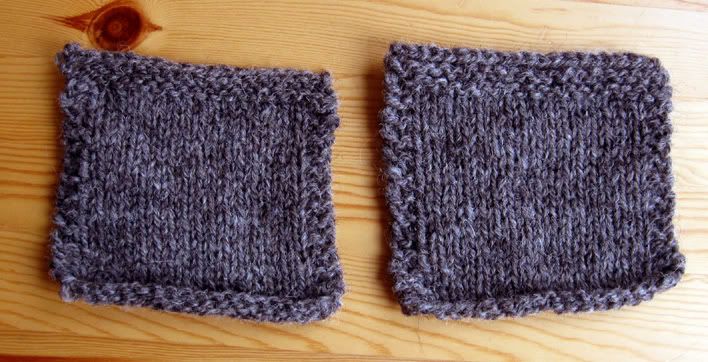 Two swatches. TWO
I have a WIP on Wednesday again, and it's safe to say that at this moment my knitting is definitely not monogamous. Where did I go wrong, etc etc?
Idlewood
caused some uncharacteristic behaviour in me. When I saw it, I thought, "I NEED TO KNIT THIS RIGHT NOW." A week later, the yarn arrived on my doorstep, and I eagerly dived in.
Another uncharacteristic move connected with this project: I swatched twice. You heard. Because the
Troon Tweed
is oiled, I thought it would change a lot with blocking, so I was extra careful. As many have done before, I made a pocket as my swatch. And then another.
For those of you considering Idlewood, note that the gauge supplied, 15 sts / 4 in, is more typical for a bulky yarn, although the yarn used is worsted weight. I hadn't noticed this until I'd bought the yarn, and it turned out not to be one of those that looks awesome at a loose gauge.
My original gauge was tighter than the pattern calls for, but still way looser than I'm comfortable with, so I went down a needle size and resigned myself to sizing mods. It's still loose, but it looks a lot better on 5.5 mm needles, I think.
A heart. Aw.
This is what I've done so far. Not much, but I like it.
See more WIP Wednesday posts on
Tami's Amis